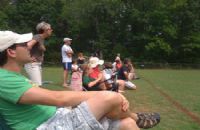 15 Dec

Obnoxious Parenting 101

I don't expect other parents to mirror my parenting style but sometimes there is real peer pressure to conform to how other parents want you to act. My sons, ages 3 and 5, like to play at Barnes & Noble, because they have a huge train set there, not to mention all kinds of books and toys. But somehow, I keep encountering busybody parents at these places, both in Falls Church, Virginia and in Evanston, Illinois, where I live now.

This afternoon, I'm sitting in a chair next to the train set table while my 3 year old, James, is playing with the trains, along with two other boys who appear to be 4 or 5. James rammed the train he was playing with- playfully, not violently- into the caboose of the train car one of the older boys was playing with. So the two train cars collided but there was no bodily contact.

The older boy ran over to his father, who was sitting next to me, and started wailing. I think there's a big difference between an only child and one with a brother, especially an older brother or brothers. My sons are always playing demolition derby, wrestling and playing a bit rough with each other, so I didn't think what James did was very egregious. Nonetheless, I told him to play nice and went back to reading my magazine.

The boy kept wailing and the father, sitting inches from me, says in a very loud voice- obviously for my benefit-

"I KNOW YOU DON'T LIKE THE WAY HE PLAYS, SO WHY DON'T YOU TRY TO DO SOMETHING ELSE?"

I can't stand parents who talk in loud, childish voices to the children primarily for the benefit of people in earshot, but I just went back to my magazine and the boys went back to playing with the trains. But a few minutes later, my son apparently annoyed the older boy again, as he came crying back to his father once more. I didn't see what happened, but the little boy complained again that James' train car rammed his again.

This time the father says, even louder, "JAGGER, I KNOW HE'S VERY ANNOYING, BUT CAN YOU PLEASE JUST TRY TO IGNORE HIM?"

I didn't say a word to the father and just asked my son once more to "play nice" but this sort of parental micromanaging gets on my nerves. This boy appeared to be 4 or 5 years old. At that age, my attitude is to let the kids play a bit. If they do something seriously wrong-correct them- but in some cases, let kids sort out there own little petty disputes.

Last winter at a Barnes & Noble in Falls Church, I encountered an even more obnoxiously intrusive parent in the train set area. I was reading a magazine and saw a dad came over to my son, roughly snatch a stuffed animal out of his hand, and say, "Excuse me but SHE was playing with that." He then tried to hand the pocket-sized stuffed animal to his daughter but she turned away and said she didn't want it.

The dad set the stuffed animal down on the train table and my son, bless him, picked it up, walked over to the little girl, who appeared to be 4 or 5, and said, "Did you want to play with this?" Once more she refused the thing but I was proud of him. When it came time for us to go, I noticed that my son was still holding the little stuffed animal and I told him to put it back wherever he found it.

"But it's mine dad," he said. "I brought it from home."

I hadn't even noticed that he brought it with him and didn't' bother to say a word to the obnoxious dad, but when I found out that he snatched away something that actually belonged to my son, I couldn't help but mention it on the way out.

"By the way," I said, walking past him on the way out. "The stuffed animal you snatched out of my son's hands is actually his."

"I didn't know that," he said. "But thanks for embarrassing me in front of my daughter."

I was already too far past him to walk back and respond, but all I could think of was: you embarrassed yourself. Grab a book or a magazine and let your daughter play for God's sakes! What's the worst that can happen at a train set?