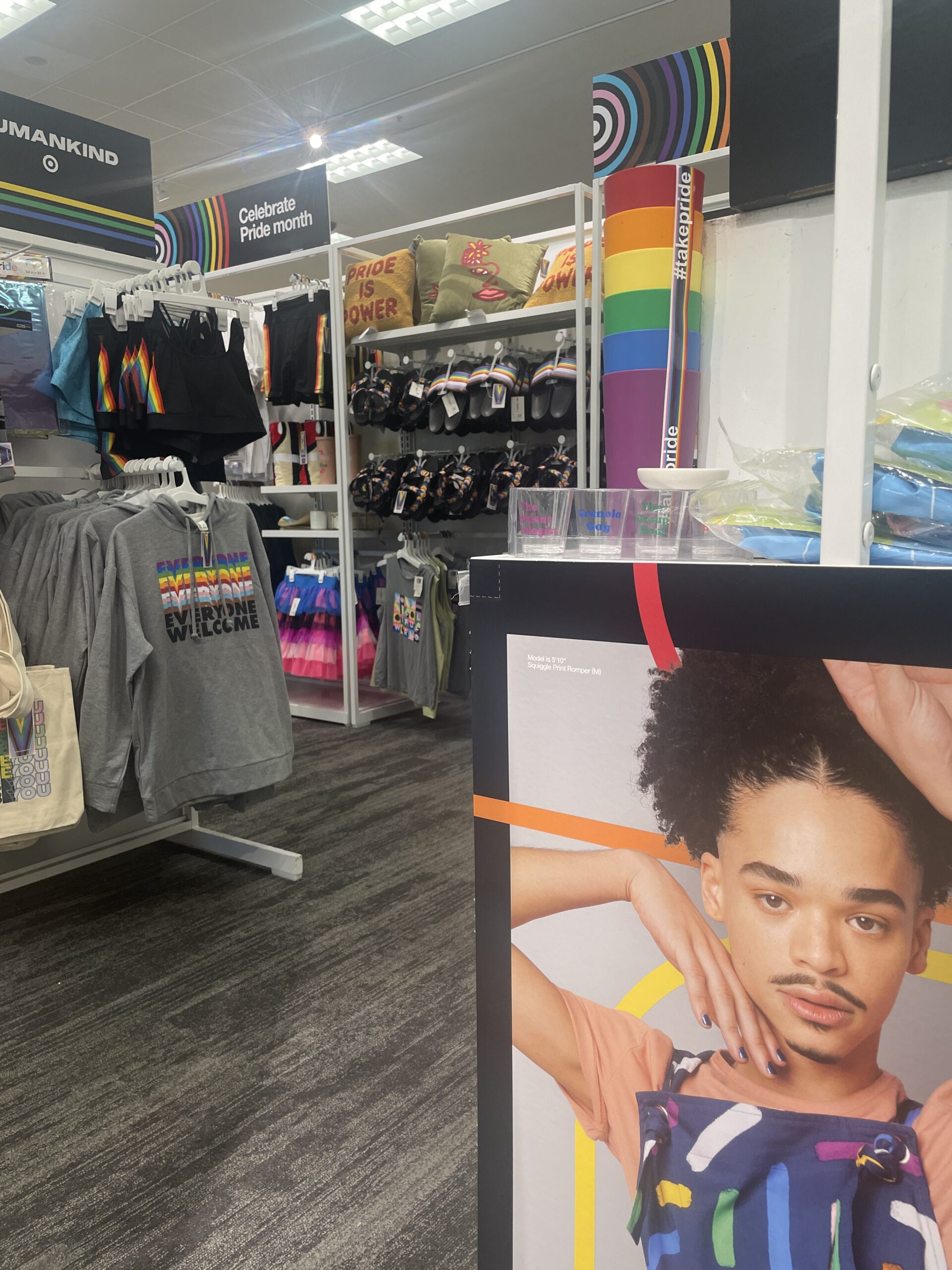 21 Mar

Complete List of Woke Companies (UPDATED 2023)

Last year, I wrote a piece for The Wall Street Journal lamenting how companies I patronize have turned increasingly political and woke. Many speciously echoed Democratic Party claims that Georgia's recent voting law is racist without specifying how so. Others have been woke for a long time and are becoming more political by the day. I received many dozens of messages—more than I've ever received about anything I've ever written—and the piece generated nearly 2,000 comments on the WSJ website.

Most of those who wrote me asked if I had a list of woke companies. I did not. So I started an initial list (see list #1 below) based on ads in The New York Times and the Washington Post, condemning what is really a fictitious assault on democracy and the right to vote. I wrote at the time to defend Georgia's law and time has proven me correct as minority turnout and turnout overall surged in Georgia's primaries. Early voting for the general election has set records, and Black voter turnout has been massive. But don't expect any of the woke corporations or the mainstream media to apologize for their Jim Crow 2.0 slurs.

List #2 covers companies protesting Florida's Parental Rights in Education/Don't Say Gay Bill, and List 3 are other woke companies that have come across my radar screen, mostly for supporting BLM, LGBTQ causes and abortion rights, or for pulling advertising from Twitter after the Elon Musk takeover among other left wing causes.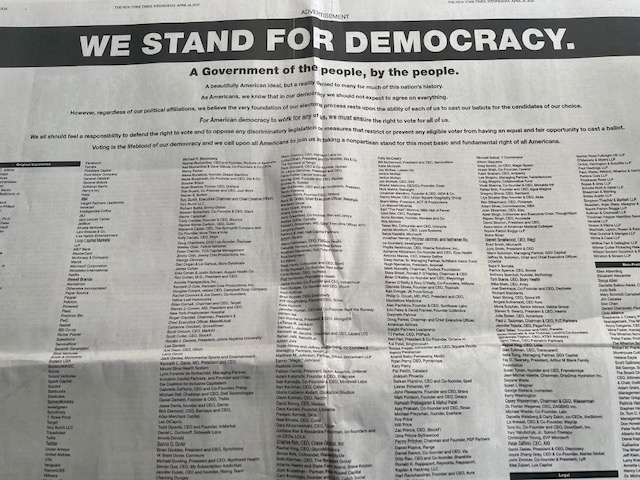 WE STAND FOR DEMOCRACY (Oh please!)
Corporate signatories (WOKE LIST #1)
Accenture
AIG
Airbnb
Alphabet (Google)
Amazon
American Airlines
American Express
Apple
Bain & Company
Bank of America
Berkshire Partners
Best Buy
Biogen
BlackRock
BMC Software
Boston Consulting Group
Broadridge Financial Solutions
Cambridge Associates
Cisco
Civic Entertainment Group
Climb Credit
CODAworx
Cowboy Ventures
Creative Artists Agency
Dell Technologies
Deloitte
Discover Financial Services
Dropbox
Eaton
Emerson Collective
Estee Lauder
Evenbrite
EY
Facebook
Ferrara
FirstMark Capital
Ford Motor Company
General Catalyst
General Motors
Goldman Sachs
Harry's Inc.
Hess
IBM
Insight Partners Leadership
Instacart
Intelligensia Coffee
J & J
Jazz Lincoln Center
JetBlue
Khosla Ventures
Levi Stauss & Co.
Live Nation Entertainment
Loop Capital Markets
Lyft
M & T Bank
Mastercard
McKinsey & Company
Merck
Microsoft Corporation
Mondelez International
Netflix
Newell Brands
Nordstrom
Otherwise Incorporated
Paper Source
Paypal
Peloton
Pinterest
Plaid
Predxion
PwC
Reddit
REI Co-op
Richer Poorer
Salesforce
ServiceNow
Seventh Generation
Slow Ventures
Smith & Company
Sodexo USA
Sodexo Magic
Sonos
Sound Ventures
Spark Capital
Square
Starbucks
Steelcase
Survey Monkey
Sweetgreen
Synchrony
T. Rowe Price
Target
Tory Burch LLC
Tripadvisor
Twilio
Twitter (obviously not so woke now under Elon Musk!)
Under Armour
United Airlines
UTA
Vanguard
Viacom CBS
VMWare
Warburg Pincus
Warby Parker
Zendesk
Zola
UPDATE:
Most of the additions below on list #2 are protesting Florida's parental rights in education bill (mischaracterized by dishonest media as "Don't Say Gay.")
WOKE COMPANIES LIST #2
23andMe
Advanced Auto Parts
American Honda Motor Company
AT & T
Bayer
Ben & Jerry's
CVS Health
Citigroup
Comcast NBC Universal
Deckers Brands (UGG, HOKA, Teva, Sanuk, and Koolaburra by UGG)
Deutsche Bank
Disney
Etsy
Gap
Go Daddy
Goodreads
Google
H & M
HP
H & R Block
Hilton
Hyatt Group Hotels & Resorts
IHG Hotels & Resorts
Kellog Company
Kraft Heinz
Linkedin
Lululemon
Macy's
Mailchimp
Marriott
Mars North America
Mattel
Metlife
MLB
MLS
Molson Coors Beverage Company
Nabisco
NCAA
NBA
NFL
NHL
Nike
Oracle
Patagonia
Pepsi/Frito-Lay/Cracker Jacks/Jills
Petsmart
Pfizer
Prudential Financial
Redfin
Sephora
Sony Interactive Entertainment
TMobile
Uber
Verizon
Warner Media
Wells Fargo
We Work
Yahoo Inc
Yelp
Zillow
Zoom Video Communications
Zynga Games
Other Misc. Woke Companies (LIST #3)
Bloomin Brands (Outback Steakhouse, Carrabba's Italian Grill, Bonefish Grill, etc.)
Evite (woke direct marketing emails, including one from a "LGBTQ + activist.")
General Mills (Cheerios, Bisquick, Haagen Dazs, etc)
Goodreads (read about how they cancelled me here!)
Hooker Furniture Company
Hotel Tonight (woke emails)
Jeni's Ice Cream (SUPER WOKE!)
Legoland, home of the world's largest Lego Pride parade
Match Group (Match.com, Tinder, OK Cupid etc.)
Mondelez International (Oreos)
The New York Times (and almost every other news outlet in Western countries)
Oreos (Nabisco limited edition Pride Oreos)
Paypal (because they so deserve to be on this list at least twice)
Pop Tarts (Kelloggs- Queer Pop Tarts)
Savage x Fenty, founded by Rihanna
Teva (sandals)
U.S. Men's National Soccer Team
Wrigley (limited edition Pride skittles)
At this point you must be wondering, are there ANY un-woke businesses left in America? Not many big ones, I can tell you that! But there are plenty of un-woke small businesses and you can find some of them on a new app called Public Square. There are very few businesses listed near where I live but I think it's growing fast, so hopefully that will soon change. And I found a coffee shop about 20 minutes from my house called Conservative Grounds that looks hilarious, so I'll be keeping the app on my phone and checking it periodically to see how it develops. In the meantime, contact me if you have suggestions for companies that deserve to be on these lists, and check out my list of non-woke or unawake businesses.  Oh by the way, on the topic of supporting like-minded entrepreneurs, how about checking out my books while you're here? I appreciate it.