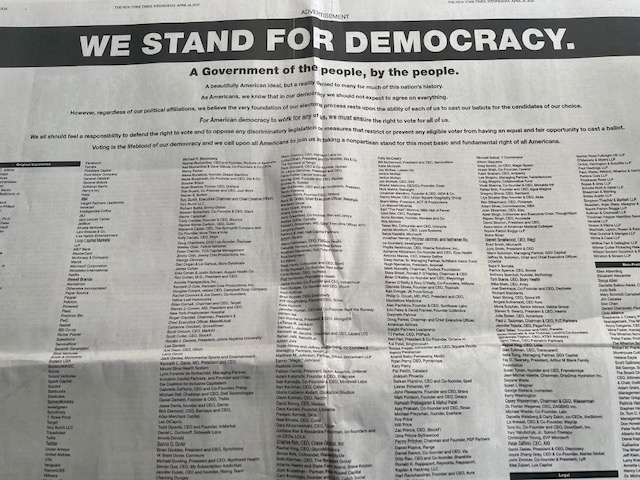 14 Apr

Complete List of Woke Companies Condemning Recent Voting Laws

Ten days ago, I wrote a piece for The Wall Street Journal lamenting how companies I patronize have turned increasingly political and woke. Many are speciously echoing Democratic Party claims that Georgia's new voting law is racist without specifying how so. Others have been woke for a long time and are becoming more political by the day. I received many dozens of messages—more than I've ever received about anything I've ever written—and the piece generated more than 2,000 comments on the WSJ website.

Roughly 75 to 80 percent of those who wrote strongly agree with me. But some told me the law is racist. I wrote back to those folks and asked them to send me specific provisions of the law they found objectionable. Only one wrote back and their complaint was about a provision of the law prohibiting anyone from giving free food and drinks to people waiting in line to vote. So preventing people from getting free snacks and beverages is now racist? Really? I'm sorry but I still don't buy it.

Most of those who wrote me asked if I had a list of woke companies. I did not. But now we have an open letter, published today in The New York Times and the Washington Post, condemning what is really a fictitious assault on democracy and the right to vote. It's very hard to read online so I thought I'd reproduce it here. If you've drunk the Dems Cool-Aid and agree that Georgia's law is "discriminatory" as the letter implies, you may want to patronize these companies. But I think what they're doing is incredibly dishonest and insulting.

Although they don't mention Georgia specifically in the ad, it's clear they're referring to its new voting law and the efforts of other states to enhance voter security. The letter implies that Republicans are trying to deny voters "from having an equal and fair opportunity to cast a ballot," which is ludicrous even to someone like me who isn't brand loyal to the Republican Party. They claim they're taking a "nonpartisan" stand, but of course, anyone who has been following politics knows that their "stand" is a transparently partisan slap at the GOP. After all, if there really is a threat to democracy and the right to vote, as they suggest, where is that threat coming from? It's coming from Republican legislators.

When I was in the Foreign Service, I observed elections in other countries. There is nothing unusual or racist about requiring photo IDs. Many, many countries all around the world do it. And indeed, try getting a job or even visiting the offices of most of these hypocritical companies without a photo ID. Impossible. In implying that voter security laws are racist, these companies are all but calling many of their customers who support them bigots. I am not a bigot and I resent the insinuation.

Here's the letter and the companies who signed.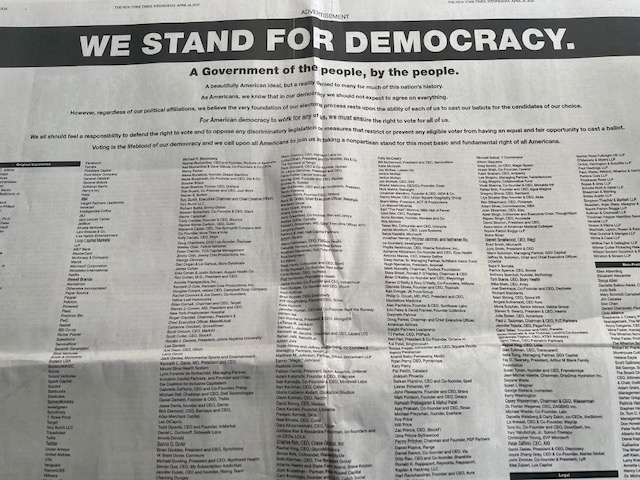 WE STAND FOR DEMOCRACY
A Government of the people, by the people.
A beautifully American ideal, but a reality denied to many for much of this nation's history. As Americans, we know that in our democracy we should not expect to agree on everything. However, regardless of our political affiliations, we believe the very foundation of our electoral process rests upon the ability of each of us to cast our ballots for the candidates of our choice. For American democracy to work for any of us, we must ensure the right to vote for all of us. We all should feel a responsibility to defend the right to vote and to oppose any discriminatory legislation or measures that restrict or prevent any eligible voter from having an equal and fair opportunity to cast a ballot. Voting is the lifeblood of our democracy and we call upon all Americans to join us in taking a nonpartisan stand for this most basic and fundamental right of all Americans.
Corporate signatories (best-known names in bold)
Accenture
AIG
Airbnb
Alphabet (Google)
Amazon
American Airlines
American Express
Apple
Bain & Company
Bank of America
Berkshire Partners
Best Buy
Biogen
BlackRock
BMC Software
Boston Consulting Group
Broadridge Financial Solutions
Cambridge Associates
Cisco
Civic Entertainment Group
Climb Credit
CODAworx
Cowboy Ventures
Creative Artists Agency
Dell Technologies
Deloitte
Discover Financial Services
Dropbox
Eaton
Emerson Collective
Estee Lauder
Evenbrite
EY
Facebook
Ferrara
FirstMark Capital
Ford Motor Company
General Catalyst
General Motors
Goldman Sachs
Harry's Inc.
Hess
IBM
Insight Partners Leadership
Instacart
Intelligensia Coffee
J & J
Jazz Lincoln Center
JetBlue
Khosla Ventures
Levi Stauss & Co.
Live Nation Entertainment
Loop Capital Markets
Lyft
M & T Bank
Mastercard
McKinsey & Company
Merck
Microsoft Corporation
Mondelez International
Netflix
Newell Brands
Nordstrom
Otherwise Incorporated
Paper Source
Paypal
Peloton
Pinterest
Plaid
Predxion
PwC
Reddit
REI Co-op
Richer Poorer
Salesforce
ServiceNow
Seventh Generation
Slow Ventures
Smith & Company
Sodexo USA
Sodexo Magic
Sonos
Sound Ventures
Spark Capital
Square
Starbucks
Steelcase
Survey Monkey
Sweetgreen
Synchrony
T. Rowe Price
Target
Tory Burch LLC
Tripadvisor
Twilio
Twitter
Under Armour
United Airlines
UTA
Vanguard
Viacom CBS
VMWare
Warburg Pincus
Warby Parker
Zendesk
Zola