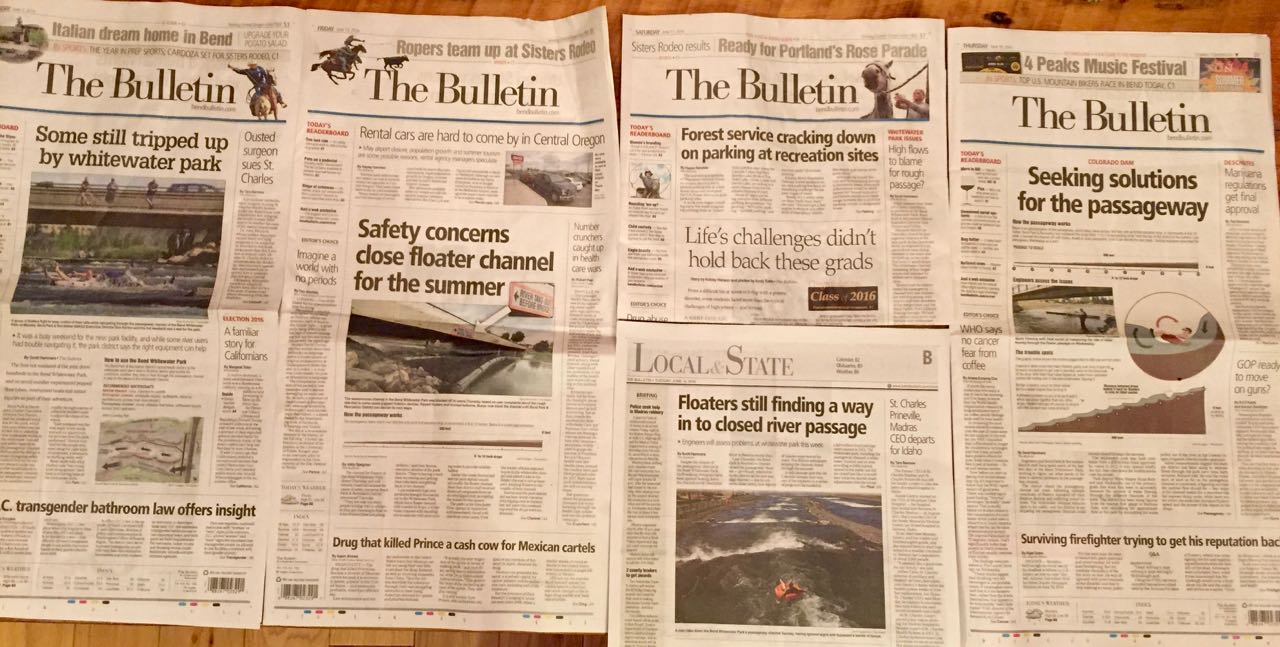 23 Jun

Whitewater Park Fiasco– Bend's 9/11?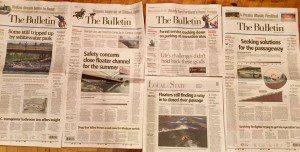 Bend is, in the words of a guy I recently met, a "frickin' magical place." Many of us have moved to this High Desert playground for its myriad of recreational opportunities—hiking, cycling, tubing, fishing, you name it, we got it. And so, we take this stuff very seriously, perhaps a bit too seriously.
A few weeks ago, the city opened up a new whitewater park/channel in the Deschutes River that cost $9.7 million. It was part of a $29 million bond that voters approved in 2012 that was supposed to create a "safe passage" through the river so that tubers, paddleboarders and kayakers would no longer have to get out of the river, walk through the previously closed Colorado Dam section and put back in on the other side of a bridge.
I was excited about this new channel and I tested it out with my wife and two little boys on the first 90-degree day in June, right after it opened. They made it through the passage with just some bumps and bruises but my tube popped on one of the jagged rocks and I banged up my elbow trying to get out of the river. (Still hurts!)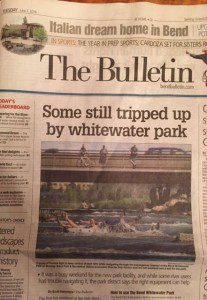 On June 7, right after that steamy weekend when many lost tubes and sustained injuries, The Bulletin, our local newspaper, carried a front page story titled, "Some Still Tripped up by Whitewater Park." The writer, Scott Hammers, quoted Don Horton, the Executive Director of Bend Parks & Recreation, who essentially laid the blame on the people, like me, who sustained injuries. "For the people who were using the right kind of equipment, it seemed to be working really well," he said.
Less than 72 hours later, clearly after the complaints and lawsuit threats began to pile up, Bend Parks & Rec announced they were closing the channel for the rest of the summer due to safety concerns. (They have since said that it might not remain closed all summer.)
It's a pretty good lifestyle-meets-local-government-incompetence story, right? But The Bulletin has treated it like 9/11, Watergate & the Moon Landing all wrapped in one slippery package. From June 7-22, they ran eight stories and two editorials on the topic—four were front page, above the fold, and two were front page, above the fold in the Local & State news section. I pasted their coverage into a word document and it came up just north of 5,500 words. This for a paper that typically prints a 6-page front section.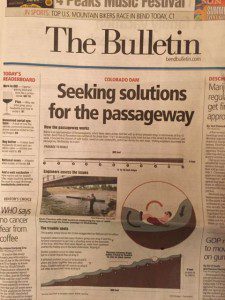 I know what you're thinking: yeah but there's nothing else going on in Bend, right? Not so much, actually. Bend is growing fast and is going through some serious growing pains. We're at a crossroads and the direction of the city rests in the decisions that are being made right now. The city is approving plans for large apartment complexes on previously quiet, dead-end residential streets likely changing neighborhoods forever.
A disturbed California native was shot dead by the police at the High Desert Museum in Bend, after he held and subsequently released a gift shop employee at knifepoint. The paper published several stories about this but told us virtually nothing about the guy and even less about police protocol for shooting suspects who were apparently no longer a threat. Our sheriff recently plead guilty to embezzlement.   And there is the not so insignificant fact that while the cost of living continues to rise here, incomes are falling. Median household income grew nationwide from $51,914 in 2010 to $53,482 in 2014, but in Deschutes County it fell during the same period from $53,071 to $49,584.
The old adage, "If it bleeds, it leads," does not apply here in Bend, where bad news is marginalized to sidebar treatment with no photos. For example, on June 15, a local Super 8 motel had to be evacuated and local police engaged in a 3-hour standoff with a disturbed man who was threatening to kill people. The next day, The Bulletin published a huge front page, above the fold story with graphics about possible solutions for the whitewater channel. The motel story was given a paltry 163 words and was relegated to the local news section with no accompanying photo or mug shot.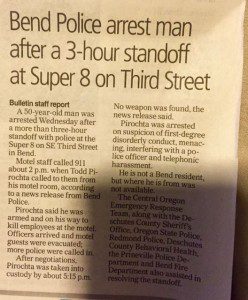 But those 163 words were actually more than double the 80 words they devoted that same day to the fact that a local woman, Raine Austria, who along with her boyfriend, Garry Lee Vineyard, was accused of killing her 1-year-old daughter by abuse, plead guilty to two counts of first-degree criminal mistreatment.
True, The Bulletin has published two prior stories on this horrifying story, but all three total just 718 words. The three stories contained almost nothing more than the charges they face, without a single quote and no information about the two accused persons or the circumstances of how the child died. Where do they work? What do their neighbors say about them? Where did they go to school? Do they have other children? We don't know because the life of this child isn't deemed (very) newsworthy in a media landscape where editors have come to think readers & advertisers are tired of reading bad news and want puffy lifestyle content—stuff that is relevant to the modern narcissist who only cares about things that matter to them, like floating down the river on Saturday afternoon, craft beer in hand.
Think these were isolated examples of crime stories slipping through the cracks? They weren't. For example, I noticed a tiny little item in the paper on April 6 stating that local police were seeking help locating a convicted "predatory sex offender," Justin Lampke, who had disconnected his ankle monitor. Those who were motivated to look up the story online could find the guy's mug shot but there was no photo in the paper! Police are seeking help identifying a dangerous sex offender but, nah, we don't need to show the public what the guy looks like, right?
You're probably thinking, these are depressing, routine crime stories that no one cares much about, right? Maybe, but the truth is that even wild, salacious crime stories get virtually no play here. For example, take the sordid case of John William Ryan, the executive director of a local membership organization for health care providers, who was accused of soliciting a woman to engage in "a deviant sex act with a child younger than 12 and in sexual contact with a dog."
When the story first broke, The Bulletin carried a brief, just the facts, 467 word piece published in the McMinnville News-Register. (where the crime occurred) And a few weeks ago, when he pled guilty to one count each of solicitation to commit first-degree sexual abuse and attempt to commit a Class A misdemeanor — sexual assault of an animal, The Bulletin followed up with an even more bare bones, 299 word piece with NO PHOTO of this sicko. Two pieces, neither of which told us a thing about the guy. Why not send a reporter out to find out something about him? Or at least comb his online presence for details? Was he married? Did he have kids? Pets? Was he an animal lover? (Sorry, couldn't resist.)
My point here isn't to slam The Bulletin. I'm a subscriber and there are some things this paper does very well (sports, mountain bike trail guide, Go section, etc.). There are a lot of great, well-intentioned people in their newsroom. But the hard truth is that if we want them to cover not just the fluff but also the sordid bad news, the ugly stuff that is happening at the margins of society, the poverty, the homelessness, the out of control development, the growing pains, we have to demand it.