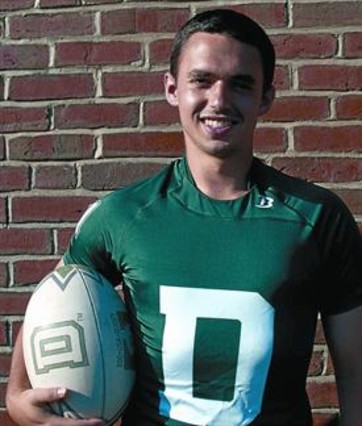 16 Sep

Update on the Murder of Dartmouth Student Crispin Scott

Crispin Scott's semester abroad in Barcelona was supposed to be the adventure of a lifetime. But on January 6, 2012, the night before he was to attend the program's orientation session, the handsome 20-year-old math major and rugby star at Dartmouth met a tragic fate. After a night of drinking with some of his fellow students, the Seattle native accepted a glass of whiskey laced with a heavy dose of lormetazepam (a type of sedative or muscle relaxant) from Óscar Vicente Castro Cedeño, an HIV positive Ecuadorian immigrant he met in a bar in Esplugues, a working class suburb just outside Barcelona.

I stumbled across Scott's story while researching this missing persons story, which appeared in the August 2013 issue ofChicago Magazine. The story impacted me deeply and still does more than two years later. How could someone with such a bright future fall victim to a crime so random, so tragic, so inexplicable? On a trip to Barcelona the following month, I visited Esplugues and the scene of the crime to try to understand how this could have happened. My intention was to write a story about Crispin but a host of national magazines and quite a few regional ones in Seattle and New England passed on the opportunity to publish a story about this tragic case. I'm publishing this story now to provide an update and because it appears as though the rest of the news media has forgotten about the Crispin Scott murder, which is a shame.

Scott was found dead in Castro's apartment and media reports indicated that he died of a simple drug overdose. It was his second day in Spain. But the huge quantity of drugs in his system raised alarm bells and when police searched Castro's apartment, they found more than 2,000 photos and 68 videos from 50 plus victims, most Caucasian men in their 20s, all of them drugged and sexually assaulted. In some of the photos, the victims were nude or were being sexually violated by Castro, who was arrested and charged with homicide on February 16, 2012.

One young man reportedly came forward to say that he was drugged and sexually violated by Castro back in 2009 but police dropped the case due to a lack of evidence and they didn't deport him even though he was in the country illegally. The suspect's normal M.O. was to meet potential victims in bars and then lure them back to his apartment with the promise of drinks and pot. Once there, he slipped barbiturates or sedatives in their drinks and then photographed and violated them once they passed out.

Crispin Scott was on the rugby team and was a member of a fraternity. Friends from Dartmouth and Seattle have said that the University Prep school graduate was brilliant but modest, caring and open. But his decision to trust Castro apparently cost him his life.

In September 2013, I went to Esplugues and interviewed Castro's neighbors. It's a humble neighborhood, a mix of immigrants, many from Ecuador and other Latin American countries, and working class Spaniards. While not far from the places that tourists haunt, it feels a world away. Castro lived in a three-story cinderblock walkup with security bars on the windows, right next to an Ecuadoran eatery, just steps from the Can Vidalet stop along line 5 of Barcelona's metro.
Castro's next-door neighbor, Carlos Gomez Ruiz, whose apartment is just on the other side of a thin wall from Castro's, told me that Castro was a cunning person who was well educated. He used to give poetry readings at a local library and, according to employees of an Ecuadorian restaurant next to his apartment, he didn't mix with the mostly working class Ecuadorians in the community.
THE DOOR TO CASTRO'S APARTMENT
Ruiz told me that he called the police on Castro several times because he was frequently involved in loud, sometimes bloody fights and he suspected that Castro was dealing drugs. But when the police came, they had no search warrant and Castro never answered the door. Ruiz said that the night Crispin's body was carried out of the apartment, Castro hosted a noisy party, complete with singing and guitar playing. He thinks that if the police had taken his complaints seriously, Crispin would still be alive.
After Crispin's death, Dartmouth severed ties with the Portland State University program he enrolled in in Barcelona. Charles Grant, the program director at Portland State told me in 2013 that Dartmouth felt "tainted" by Crispin's death and scapegoated his program. He also said that there was an undercurrent of snobbery and a few hints that perhaps Crispin was drinking with hard-partying Portland State students on the night he died. (He maintains that Crispin was partying with fellow Dartmouth students but they went home at 2 a.m. and he stayed out, meeting Castro later that evening.)
According to the American embassy in Madrid, more than 25,000 American college students study abroad in Spain each year, making it the third most popular study abroad destination after England and Italy. Barcelona is considered a safe place but the director of Crispin's study abroad program told me that American college students are like "sitting ducks"— too open and trusting when they arrive in Europe for the first time.
But Scott was, by all accounts, a brilliant young man, not a naive youngster. He had just arrived in Barcelona for what was supposed to be a tremendous learning experience. Perhaps he could have been more cautious, but is this what the world has come to? What an appalling shame to think that when we travel we have to be on guard at all times, distrusting strangers who befriend us.
Óscar Vicente Castro Cedeño really committed a crime not just against Crispin but against all of humanity; against each of us who come to know about Crispin's tragic fate, because when we hear about stories like this we all lose a little of our openness, our willingness to seek new experiences, our ability to trust our fellow human beings we share this planet with.
That is why I was disappointed to find out that on November 14, 2014,  Castro received just 16.5 years, plus a fine of $15,000 plus court costs for his crimes against Crispin and one other victim. Based on my reading of the court documents, which I obtained recently, it looks like the Spanish equivalent of voluntary manslaughter, rather than first-degree murder. According to Emma Peitx, a Barcelona native who served as my interpreter in Esplugues, the maximum jail term anyone can receive in Spain is just 30 years.
Peitx thinks Castro will likely serve at least half of his sentence. He probably got a deal for admitting his guilt—and he could serve less than a decade for his crimes. In my book, that in itself is a crime. My heart goes out to his family and friends. My only hope in publishing this update is that Crispin won't be forgotten.