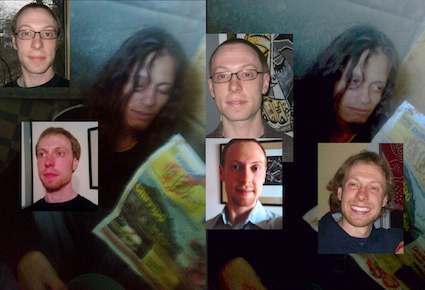 25 Nov

Update on David Gimelfarb, Chicago Student Who Disappeared in Costa Rica

For more than four years, the parents of David Gimelfarb, a graduate student from Highland Park who went missing while on a hike in Costa Rica in 2009, have maintained hope that their son is still alive. They have returned to Costa Rica each August, around the anniversary of his disappearance, to follow up on leads regarding his whereabouts, but this year's trip inspired both hope and fear like none before. I've maintained contact with the Gimelfarb family since writing this story for Chicago Magazine over the summer and wanted to provide an update on his case.

David Gimelfarb, then 28, was last seen on August 11, 2009 at Rincón de la Vieja National Park, where he registered to take a three-kilometer hike alone. Gimelfarb disappeared, but his parents, Roma and Luda, have received a steady stream of leads from people who have seen reward posters bearing his likeness and think they've spotted David. On a number of occasions, they've received phone calls from con artists looking to exploit their grief, but none ever claimed that they were holding David until late August.

The Gimelfarbs received multiple ransom demands from a man who claimed that drug dealers are holding David hostage on a farm in Costa Rica. The threatening calls came from a man who spoke English and Spanish with a Colombian accent and claimed that he was a guard at the compound where David was being held. He said that Gimelfarb had been dealing drugs since 2007 and had swindled the drug dealers out of millions of dollars, a claim considered dubious by everyone who knew David.

The man, who didn't identify himself, said that he would turn Gimelfarb over in exchange for $250,000 and warned that if he didn't get the money, he would kill David. The Gimelfarbs asked for proof that their son was alive and they received two dark, out of focus photos from the Hotmail account of someone using the name Geany Camacyo. (see images above for comparison) They asked for better quality photos but the purported guard claimed that it was impossible, insisting that it was too dangerous. In order to get those photos, he claimed, he sent a woman with a phone hidden in her vagina to the room where David was allegedly being held captive.

The images are of a young man with long hair who bears some resemblance to David. The Gimelfarbs forwarded the photos to the OIJ, Costa Rica's equivalent of the FBI, which determined that the photos were inconclusive.

"The photos made us hopeful, because we thought it might be David," said Roma Gimelfarb in a recent interview at his home in Highland Park.

The purported guard, who called the Gimelfarbs several times over a period of days, said that the drug dealers have held Gimelfarb since he disappeared in 2009 as retribution for allegedly swindling them, and insisted that he wasn't involved in the kidnapping but was just a guard at the compound where he was being held. The Gimelfarbs recorded some of the conversations and authorities in Costa Rica believe that the calls may have been placed from a notorious prison called La Reforma, northwest of San Jose. The Tico Times , a Costa Rican news website, reported that the owner of the mobile phone on which the calls were placed, is an 18-year-old man living in Santa Cruz, Costa Rica.  Costa Rican authorities are still investigating and haven't made any arrests.

In one of the calls, the man says that David is being guarded by "12 guys with guns," and says, "These guys here they want to ask for $250,000. They know you guys are offering $100,000 for information."

Bob Dwyer, a retired supervisory special agent for the FBI who is an expert on hostage negotiations in Latin America, says that criminals in the region take advantage of the families of missing persons.

"In legitimate hostage situations, the first call usually comes in within 24 hours after the kidnapping," he said. "There is no chance that they would hold someone for four years, feed them guard them and take care of them, and not make any monetary demands."

The Gimelfarbs believe that the group that made the hostage phone calls are clearly well organized, dangerous criminals. In one of the calls, they made a veiled threat against their translator, demonstrating that they knew he had a daughter attending a specific kindergarten. But the threatening calls stopped after a few days, just as abruptly as they started. It seems apparent that the hostage calls were a hoax, but clearly a fairly sophisticated one.

The Gimelfarbs spent three weeks in Costa Rica, and traveled more than 1,000 miles up and down the country looking for their son. They traveled to a village near Limon, a city on the Atlantic Coast, and met with a family who believes they saw David last fall.

"They seemed honest," Luda Gimelfarb said. "We asked them tricky questions and showed them a lot of photos, some not of David, and they got all the answers right."

Roma and Luda also made two excursions to checkpoints at Costa Rica's border with Panama. After meeting with border guards on the second occasion, they received a phone call that night from someone claiming to be one of the Panamanian border guards they had met.

"He claimed that someone saw our missing person flyer that day at the border and said that they had seen David in Panama," Roma recalled.

But the guard wanted them to pay a large sum of money for him to follow up on the lead and they dismissed his request, assuming it was a scam. They also drove to Quepos, a small town right next to Manuel Antonio National Park, one of Costa Rica's premier tourist attractions, to follow up on reports that a homeless gringo who resembled David was squatting in an abandoned home.   But alas, by the time they arrived, neighbors said that the gringo had taken off for Panama, leaving behind nothing more than a few personal items and a host of drawings in crayon scattered on the home's grimy floor. (see image below)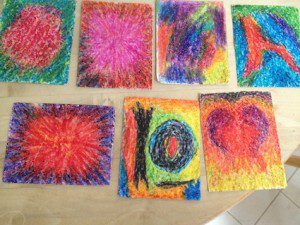 "The artist used crayons and David liked to use crayons too," Roma said, displaying a host of the drawings on his kitchen table next to some of David's artwork. "The style is very similar. These could have been made by my son." (see example of David's work below)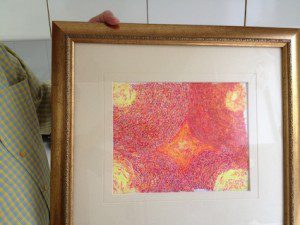 A couple weeks after they left Quepos, Costa Rican police detained a man whom they thought was the artistic drifter. But the photo the police sent the Gimelfarbs bore no resemblance to David and they remain uncertain whether the man in the photo is the same person whom locals in Quepos thought was David. In any case, the drifter claimed that the artwork was his.
The Gimelfarbs felt that they'd made some progress on their trip and even the hostage phone calls made them hopeful.
"Now we have evidence of a crime," Roma said. "This is extortion at least, so the FBI should get involved in investigating the case."
Dwyer says that the FBI doesn't investigate extortion cases committed overseas, and he isn't optimistic that the FBI will investigate Gimelfarb's disappearance.
"Families never give up on missing children," he said.  "But there are thousands of cases of missing persons out there and the FBI cannot get involved in all of them."
The Gimelfarbs sometimes feel like they are chasing a shadow but they say they won't give up looking for their son.
"We have to keep searching, because David is still alive," said Luda. "We believe that."