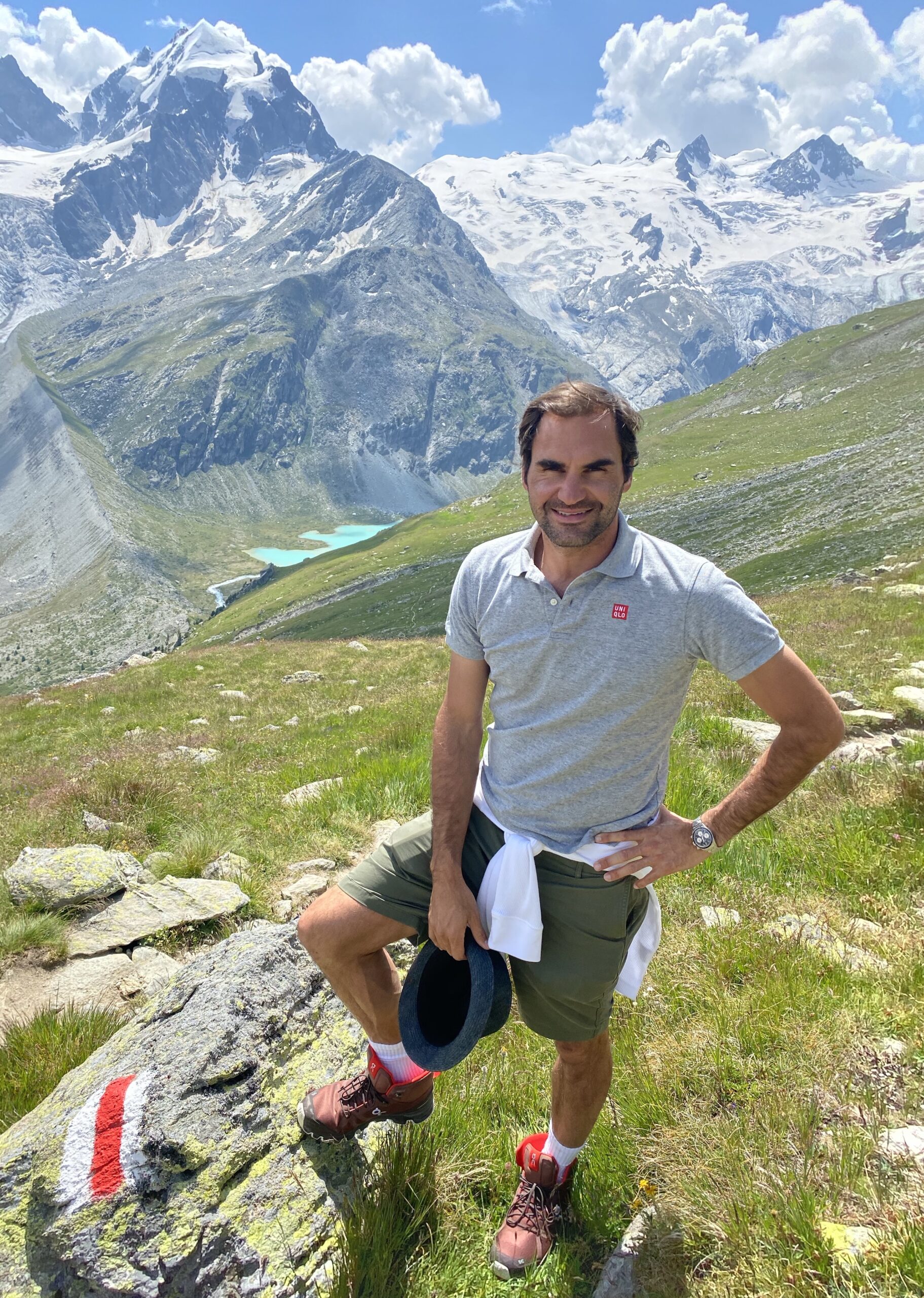 08 May

Outtakes from my Recent Interview with Roger Federer

My recent interview with Roger Federer is now out on The New York Times website! Big thanks to Switzerland Tourism and The New York Times for giving me the opportunity to interview my favorite athlete of all time, a man who is not only a great tennis player but also a very fine human being. We chatted mostly about Switzerland and travel but our conversation did also veer off in a few unexpected directions. I'm including a few unpublished outtakes here for my loyal readers to enjoy below the photo, which is from Roger's personal collection.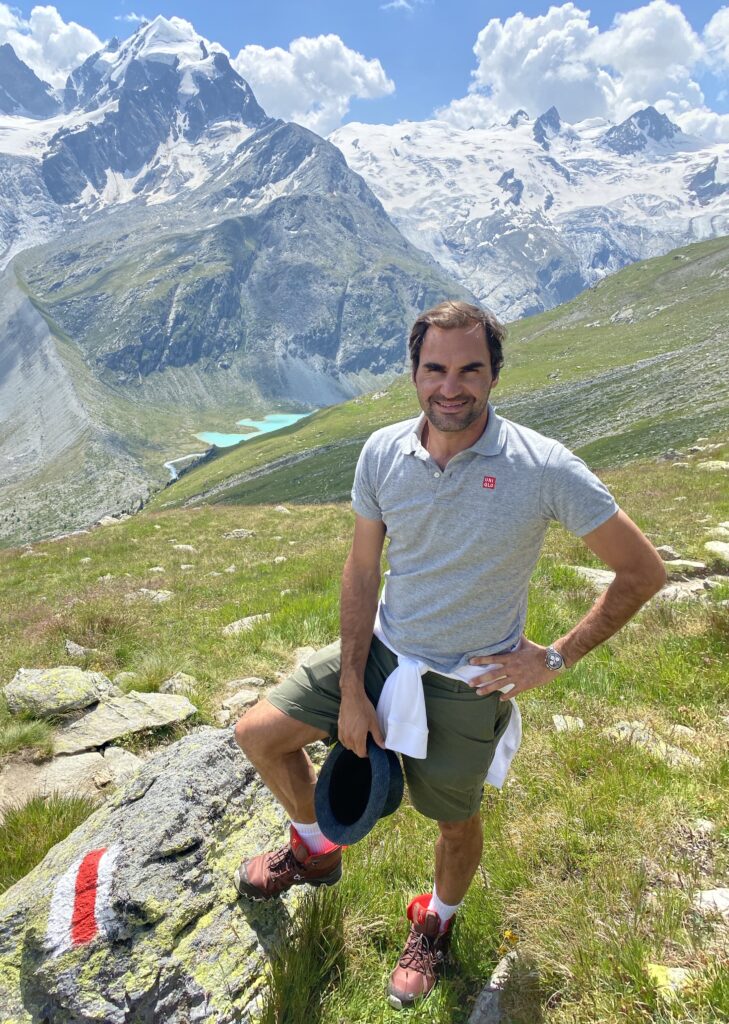 I noticed at the Swiss House of Tennis (Switzerland's national training center) they have a "King Roger" burger in the restaurant, and a "Stan the Man" burger named after your countryman, Stan Wawrinka. And your burger costs one franc more.
Oh yeah? And it's on Roger Federer street too, so it's a must visit definitely! (laughs)
You mentioned Gstaad. Swiss cows are famously beautiful. You won Swiss cows at the Swiss Open in Gstaad right?
I got one cow when I won the tournament in 2003, after I won my first Wimbledon and played Gstaad the following week. It made huge waves around the world for me to get the cow. Especially in America, people would ask me, 'How's your cow doing?' They literally thought I'm Swiss, so I must have the cow in my backyard. (laughs) The first cow I got there was named Juliette. The second one I got, I named her Edelweiss, she was the daughter of Juliette actually.
When they gave me the third cow in 2013, I asked if I could bring it back to the mountains where I live in Graubünden. I thought we could give it to a farmer there, so we could visit the cow with the kids. It would have been amazing, but, and I don't know if this is true or if this is a lie, but they told me the Bernese cows do not interact well with Graubünden cows. (laughs) So I had to leave the cow there and I don't know what they're up to these days.
Too bad. You could have used those cows for a commercial you just did with Robert De Niro for Swiss tourism.
It was fun to do. I tried to do my best acting for it but the pressure was very high! Being in a short movie with Robert De Niro, that was pressure. (laughs) The scenery in the commercial speaks for itself, so I hope people enjoy it.
In the commercial, you're speaking to Mr. De Niro from a house with an incredible view of the mountains. Was that your house?
No, no, no. We filmed the commercial in Zermatt. My fitness coach lives there and I hadn't been there in a long time. It's a beautiful place; I went with Mirka and the kids. We had a wonderful time for three days. On the day we shot the commercial, we had this picture perfect sky as you can see, so the view was amazing.
You grew up in Münchenstein, just outside Basel. How about that for an off the beaten path destination?
I haven't been back there in a long, long time. (laughs)
You never took your children to see where you grew up?
I haven't no. We've driven past it many times. You know there's the Basler Läckerli factory there we've been to very nearby that makes the special cookies that are famous in Basel. But I've never taken them all the way around the village to see the school I went to or anything. I still have to do it and it's not far from where my parents live so I should do it.
Basel itself isn't completely off the beaten track but it is underrated isn't it?
It's a very beautiful city. It has the (Rhine) river, it has a great Old Town. When you grow up in Basel, you don't need a lake because you have the river. My wife, (Mirka), she grew up in Kreuzlingen, on Lake Constance, and she says being on a lake gives you energy. For me, a nice view into a forest or a field is plenty. I think Basel is a nice place to visit and it's right on the three-country triangle with France and Germany, so there are many nice places to visit in the area. Basel is a sweet place and I was lucky to grow up there. It was perfect for me.
Did the pandemic give you an opportunity to spend more time with your family and perhaps rediscover places in your own backyard?
I started to explore more in my area in 2016 when I had the knee injury. I went to see the National Park, I went to Appenzell with my kids. Last year we spent much more time at home and I just really enjoyed being home during the pandemic. Then my training stared and I was really busy so I couldn't do as much as I wanted to do in terms of hikes and stuff. It was just nice after 20-25 years of traveling to be home in Switzerland for eight months. It was incredible. It was a beautiful thing at a very difficult time. We kept things normal with home school for the kids. Fifth grade for my girls is getting tougher so we had to focus on them as well.
You've been to around 60 countries. How is Switzerland different than any other place you've visited?
We have the Alps cutting across the entire country. We have four languages. You can come to Switzerland for only a week or two and get a good feel for the country. It's clean, it's safe, our public transport maybe along with Japan is probably the best in the world. The trains, the buses, the trams, they will be on time. They work. We have great quality hospitals, the quality of our food, the quality of everything that the Swiss do is excellent. We have good values and when you travel as much as I have, you start to appreciate all these things and the fact that people in Switzerland are still normal. For me, it's the perfect place to raise a family.
During my footsteps of Federer trip in 2019, several people mentioned to me that one of the reasons you love living in Switzerland is that people treat you like you're an ordinary person. Is that one of the appeals of Switzerland, that there is no celebrity culture there?
We can't (have a celebrity culture) because we don't have as many celebrities here like you do in the States! (laughs) And even if somebody is a celebrity here, they make you sound like you're a B-lister anway. (laughs) You have to be so, so good for them to elevate you. They have given me so much respect. I feel like this has really changed over the last five to ten years. They've given me a stamp, a coin, a book, a street named after me (at the Swiss House of Tennis.)
But it's true, here in Switzerland, we don't like to be better or worse than anyone else. We like to be equal. If you're not doing so well, we'll help you up. But if you're too good, we'll pull you down ever so slightly, but it's always meant in a positive way that you should never forget your roots. You have to remember where you come from, so in that way Switzerland is very, very good. In a different country, you might be a celebrity if you win Junior Wimbledon. In Switzerland, you have to win Wimbledon three times to get the same fame.
If your kids wrote a guidebook to Switzerland, what would some of their highlights be?
They love to do river cruises, particularly up by Chur. If you go into the mountains, there is a sort of grand canyon, or mini-canyon if you like. You can't compare it to your Grand Canyon in the States but that's one thing they enjoy. They also love visiting the bigger lakes, Lake Constance, Lake Lucerne, Lake Geneva. They like to take those old steamboat rides on the lakes. They like to wander the old towns of our cities, seeing the lovely fountains and all the shops, which are decorated individually with flowers. But I think (for them) nothing beats the mountains, especially in the winter, seeing the picture perfect Switzerland, as we know it with all the snow. And in the summer, they enjoy the hikes and going to the national park.