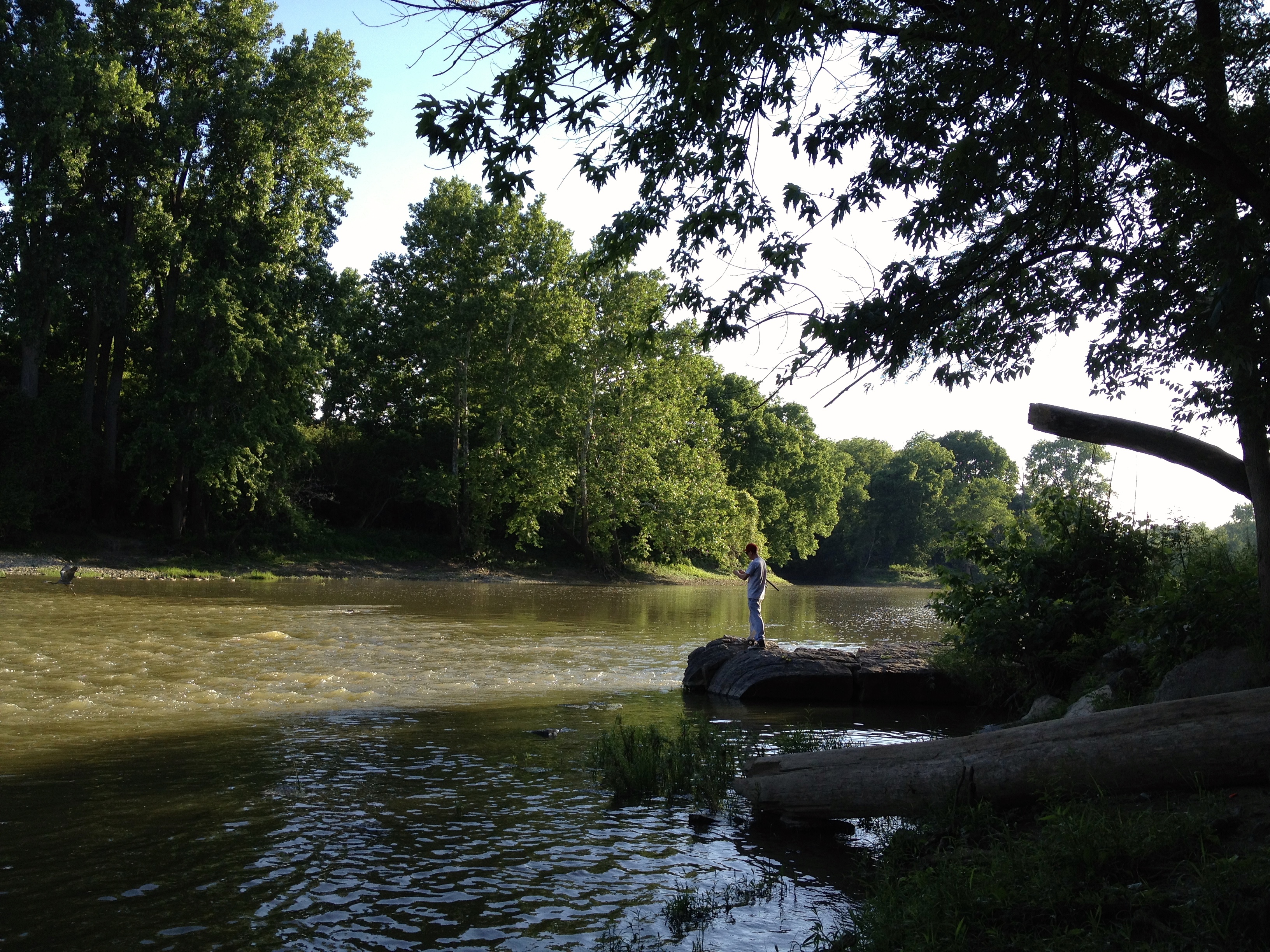 09 Jun

I Owe Maumee, Ohio a Big Apology

When you're traveling across America via our interstate highways, it's easy to slip into a zombie-like trance where you are still awake and alive but only in a technical sense. For all intents and purposes, you are a dead man driving- drifting from one chain gas station to hotel to fast food restaurant. It's a purely utilitarian experience. While traveling in this near-vegetative state, it is very easy to pass towns, states and even entire regions and come to the following conclusion. This place is completely devoid of any value whatsoever. Everyone who lives here must be mad.

I've been to Maumee, a small to medium-sized town outside Toledo, Ohio, several times over the years because it is roughly halfway between my home and where my parents live. Maumee is right off the Interstate, I-80 for those of you keeping score at home, though it could be off any Interstate, and it has the usual array of chain hotels and restaurants. In addition to these places, Maumee has one good Thai restaurant (really- it's right across the street from the Homewood Suites or is the Homestead Suites?) and a very tired sports bar that is ludicrously named Frickers. Frickers has a couple of pretty waitresses and they are the only place in town that is open on Thanksgiving Day and Christmas Day. Believe me, I know.

Before today, I was quite certain that that was all Maumee, the proverbial null set, had to offer. In fact, let me go one step further and admit that I have been criss-crossing Ohio's Interstates for my whole adult life, that's a little over twenty years, and I have rarely come across a damn thing in the Buckeye State, outside of the cities, that wasn't dull, drab and awful. But it's easy to come to that conclusion when you are robotically following your GPS around, en route to someplace else, not talking to anyone and trying to stay close to the highways.

This afternoon, I asked the front desk ladies at my hotel in Maumee if they could recommend a nice place for a walk. My hotel, the Homewood/Homestead Suites, is located on a typically wretched stretch of strip malls- the kind of place where one would sooner volunteer to polish the city's sewer system with a toothbrush than take a walk.  I wasn't optimistic that they'd have a valid recommendation.

"We have a beautiful park just a couple miles away," said the younger woman, who, let the record show, had large emerald green eyes, Ivory girl skin, and a face that was, here-I said-it, very pleasant to look at, even if you are a married man like me who does not notice such things.

"But he could go right back here and walk around in the corporate park," countered her boss, a middle-aged woman who clearly sized me up as the kind of person who enjoys filing tax returns, flossing after meals and taking long, relaxing strolls in corporate office parks wearing business casual clothing from Joseph A. Banks Clothier.

I went to the park. It's a place delightfully namedSide Cut MetroPark– but I admit, I did not believe the pretty girl who told me that there was a beautifulpark in Maumee, Ohio. No, no, didn't she know? I had been to Maumee before and had, without bothering to really ask anyone anything or look around, concluded that there was nothing of any value in town. Perhaps she hadn't received the memo, informing her that her hometown was an abysmally insipid hellhole, worthy of nothing more than first place in a characterless towns of American contest?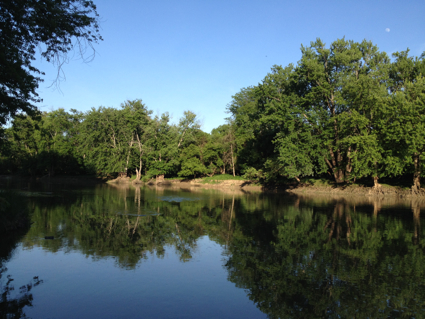 The park was only 2.5 miles from the chain store hell-strip I was staying in, but I realized Maumee had more to offer than I'd realized as we passed through an older part of town where the streets were narrow and the homes were distinctive, not cookie cutter. And the park was a revelation. It was a gorgeously life-affirming, sunny early summer day. Little boys and girls were playing T-ball, and unshaved lonely looking men were fishing for walleye in the broad, slow moving Maumee River- the largest river in the Great Lakes, or so the park brochure said. There were herons standing on rocks like statues, and geese gliding downstream in a neat single file line in the late afternoon sunshine.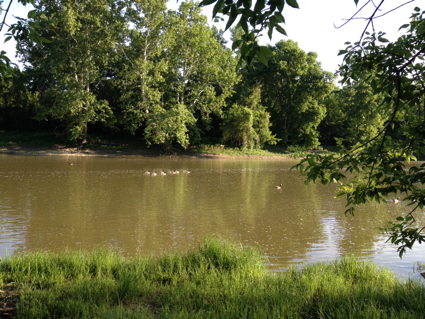 We took turns taking long walks on the shady riverside path while our boys romped in the playground and threw rocks in the river. People I don't know said hello to me and seemed to mean it.  It was positively idyllic. After leaving the park, I discovered that Maumee has a little downtown, and, even better, the neighboring town of Perrysburg has an ice cream stand called Mr. Freeze that should, I think, receive UNESCO World Heritage Site designation. (Thank you, Yelp!)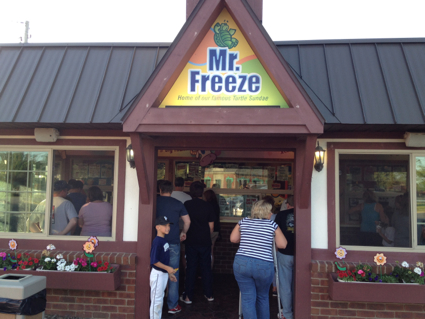 On a warm Monday night at 7:30 p.m., approximately 90% of the population of Perrysburg was in line at Mr. Freeze when we arrived. (You guess it, the other 10% already had their ice cream.) I couldn't hear what the gentleman and his son in front of us ordered but I head the young lady ask them for $2.90. I assumed that he must have only ordered something for his son, but she handed over two ice cream cones that were about the length of a hockey stick and the girth of a pair of goalie pads. Two huge-ass cones for less than three bucks.
"What size cones were those?" my wife asked as we stepped up to the counter.
"Those are small," said the teenager in a yellow shirt.
"Those cones over there," my wife said, pointing, certain the girl was mistaken.
"Yes, those ones are small," the girl reassured us.
I shuddered to imagine what the medium or large looked like and ordered a small turtle sundae- which comes with hot fudge, caramel and pecans. Aside from the fact that my "small" sundae was absurdly large, it was decadent and delicious. In Chicago, where I live, one would have to hand over their first born child or perhaps the title deed to their home to acquire such a LARGE and orgasmically righteous sundae, but here, in good old Perrysburg, the darn thing cost $3.45.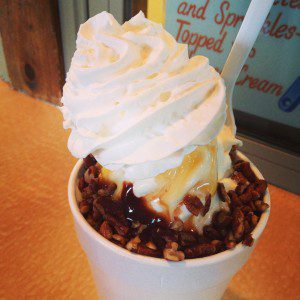 And I feel compelled to tell you this particular sundae was different from every other sundae I have ever had in my life in two important ways. First, I did not finish it, despite the fact that it was so damn good. (Too big.) And second, with every other sundae I have ever eaten, I always run out of hot fudge midway through the thing, but not in this case. In fact, I just keep finding more fudge and carmel in the damn thing. It was like digging for gold, finding it and then finding more and more and more, until, at a certain point, it became ridiculous. More fudge? No mas!
I did not have time to assess the toll Mr. Freeze is taking on the collective waistline of this community, nor did I visit the emergency room of the local hospital to ask them about the implications of having this glorious establishment in the vicinity, but suffice it to say that if I lived in Perrysburg, I would look like one of those hippopotamuses they show on the National Geographic Channel lounging in the murky Zambezi River with birds pecking at its back.
So if you are passing by these communities on the Interstate, get the hell off the highway and have a look around- take a long walk in the park, a very long walk because you will eat like 12,000 calories worth of ice cream at Mr. Freeze. Maumee and Perrysburg are a great reminder that there is still plenty to see in Fly Over Country, so long as you stray well off the interstates.