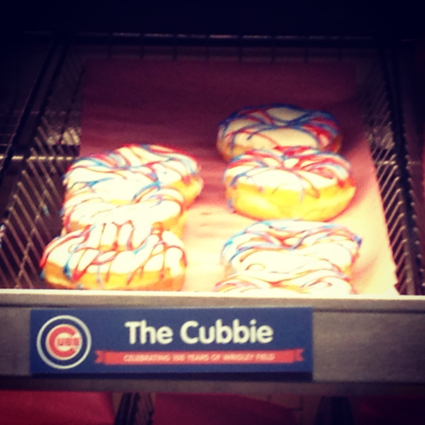 09 Apr

Forbidden White Sox Donuts: Did Dunkin' Donuts Snub Sox Fans?

White Sox fans are used to feeling like members of a cult, shunned by Chicagoland's mainstream Cubbie-centric culture; their rooting allegiance considered nothing more than a deviant fetish. But until this week, I never considered the fact that this cultural bias would spill over into the sinfully decadent world of donuts. On Sunday night, I brought my son to a Dunkin' Donuts/Baskin Robbins location on the far North Side of Chicago, on Western Avenue near Howard, and noticed that they had a donut called "The Cubbie," but no Sox donuts.

"Do you have White Sox donuts?" I asked the young woman at the cash register.

She pointed to a vanilla frosted donut and when I shook her off, like a pitcher rejecting his catcher's sign for a curveball, sign, she seemed confused.

"You have Cubs, I'm wondering if you have White Sox, not white frosting," I said.

She conferred with a male colleague who had a better grasp on the language and the sports world, and he relayed the bad news.

"We got Cubs, no Sox," he said. "Maybe somebody on the South Side has Sox, but not us."

It seemed reasonable enough. Dunkin Donuts was probably stocking Cubbie donuts on the North Side and Sox donuts on the South Side, right? I explained to my son, who is 6, the geography of baseball rooting preferences in Chicago and it made sense to him, too.

But, alas, I called four Dunkin Donuts locations on the South Side, including one on West 31st, just a mile from U.S. Cellular Field, and all had Cubs donuts in stock but none had Sox donuts.

"We only got Cubs," said one guy who answered the phone at the Dunkin' location at 3481 S. Martin Luther King Drive.

"Come on man," I said. "You're on the South Side! Why no Sox donuts?"

"It comes straight from corporate," he said. "We got no say in the matter."

"So you expect Sox fans to eat Cubs donuts?" I asked.

He laughed before replying, "The promotion ends today, so there ain't gonna be any more baseball donuts here by tomorrow anyway."

That's probably for the best. But I wondered if Sox fans should boycott Dunkin' Donuts until they acknowledge that Chicago has two major league baseball teams?

As someone who enjoys conspiracy theories, I'm almost a touch disappointed to admit that it turns out that there is no anti-Sox conspiracy. I contacted Dunkin' Donuts corporate office and received the following reply regarding the Great Sox Donut Slight of 2014.

"Regarding the Cubbie donuts, we are helping to celebrate the 100th birthday of Wrigley Field and supporting Cubs Charities. A portion of sales will be donated to Cubs Charities up to $10,000."

So it turns out that there is a good cause involved here. My advice to Sox fans is this: don't boycott Dunkin', in fact, patronize the place. Go one step further and buy the Cubbie donuts. You can use them for batting practice or, if you must, eat them. (If they make you sick, please don't sue me) But let's hope that next year Dunkin' brings out aforbidden Sox donut worth selling one's soul for. Mmmmmm Forbidden Sox donut.

Footnote: In full disclosure, I'm part of a small group of baseball fans that may be even more cult-like than Sox fans: those who root for the Cubs and the White Sox. Go ahead  a nd hate me, but my dream is a Cubs-Sox World Series. My defense: I didn't grow up in Chicago, so I have no familial or geographic Chicago baseball  allegiance.