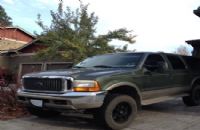 14 Nov

Bend, Oregon is Not as Crunchy as you Might Think

Visitors might wrongly assume that Bend is a bastion of crunchy, left-wing, kombucha swilling vegans who wear hemp, recycle toilet paper and look forward to listening to NPR's Wait-Wait-Don't Tell Me on weekends. After all, this is the small, outdoorsy city that shows up in all the Best Places to Live slideshows, located close enough to Portlandia that you could almost catch an STD from it.

If you visit Bend and spend most of your time on the West Side patronizing yuppie-orineted businesses, you're going to see a lot of folks who eat organic, gluten free granola and vote Democratic. You'll know when you see them because most are driving Subaru Outbacks. (The rebelious ones have Forresters.) Go anywhere else in the area and you'll see plenty of Republicans. You'll recognize them too because they are driving monster trucks, pickup trucks or SUVs suitably gigantic enough to accommodate a choir full of people, all in need of gastric bypass surgery.

In Deschutes County, the Pickup Truck People outnumber the Roo Drivers about 55/45 or 60/40. Don't believe me? Look at the election results. In2012, Mitt Romney, yes, Mitt Freaking Romney, carried Deschutes County by 8 points, while losing to Obama statewide by 12 points. In 2014, Deschutes voters favored Republican Dennis Richardson for governor, who lost handily, and said no to driver's cards for illegal immigrants (71-29) and GMO labeling (54-46). According to the Bend Bulletin, there are 36,000 registered Republicans in the country and 31,000 registered Democrats.

Compare those figures to other outdoorsy places that show up on Best Places to Live lists. Boulder County (Colorado) went for Obama in 2012 to the tune of 70%. In Santa Fe (New Mexico) County, the figure was 73%. How about Asheville, North Carolina? Obama won in Buncombe County by 13 points. (56-43) Madison, Wisconsin? Dane County went for Obama 71-28. Portland, Maine? Obama again, 61-34. Park City, Utah? Summit County backed Mitt Romney, but by the slimmest margin (50.9 vs. 46.1) of any county in a state that is filled with Mormons. In 2008, when Obama faced McCain, he carried Summit County easily, 57-41.

What does all of this mean? Bend ismore diverse (politically, not racially) then all the other cool, small outdoorsy cities around the country. This means that there are 26 craft breweries here but there are people who drink shitty beer, and not in an ironic way. It means that you will see plenty of Subarus, and also more than a few people driving monster trucks with dogs in the flatbed. Bend is really two very different places. It's where Oregon's two world's- one side of the Cascades and the other- collide.