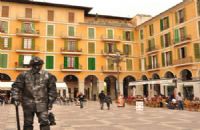 18 Apr

A Chilly Welcome to Palma, See-Tea of Cool-Tour

Travelers expect people who work in tourist information offices to be friendly, helpful and proactive in providing information and tips that help them plan their visit to the destination. Over the years, I've visited hundreds of these places around the world and all the free maps I've obtained could probably paper the walls of the Grand Canyon. You can always get a map, and sometimes you get some great insights, but occasionally you run into surly people who couldn't possibly be a more unpleasant introduction to your port of call.

Our Costa cruise stopped in the Mallorcan port of Palma today and we ambled into a tourist information office in the Placa Espana shortly after it opened to get a map and some ideas for our day in port.

"We're traveling with two little children," I said to one of two young women manning the desk, gesturing to my little ones behind me. "Do you have any suggestions on things to do with kids here?"

"Palma is a cool-tour-rahl center," she sniffed. "There is nothing to do for children."

"Ok," I said tentatively, "What about general tips on things to see?"

"I told you, there is nothing here for children," she snapped, even more unfriendly on the second go-around. "We have an aquarium ten kilometers away, but that's it."

"Sorry, but aside from the kids, what can you recommend for adults?"

She grudgingly circled a few landmarks on our map and we shuffled out of the office. About 50 meters away, we came up on a really nice playground. So much for there being nothing for kids to do in Palma. While we watched our kids play, I met a guy who was there with his young son and he pulled out our map and gave us all kinds of useful suggestions. He was infinitely more helpful than the woman in the tourist information office, but then again, he doesn't have to deal with tourists all day long as she does.

I've worked in jobs where you have to deal with the public and it can be hellish. It takes a certain kind of person to excel in this role and neither she nor I fit the mold. If I worked alongside her, I'd probably be telling people to bugger off as well.

A few hours later we went into a very elaborate municipal building that housed a public library and other functions in the Placa Cort in the city's Old Town. I asked a uniformed security guard if there was a bathroom, in Spanish.

I'm not certain I completely understood his reply, but I believe he said that there was no public bathroom, but there was one for patrons of the library. Noticing that there was a WIFI sticker on the library door, I decided to go in to check my email on my iPod and, hopefully use the ba ño .

After downloading my email, I asked the librarian if there was a bathroom I could use. He directed me to one; I used it and then headed back out towards the exit, but was stopped by the security guard and a uniformed police officer.

Both started barking at me in Spanish, with the security guard jabbing his finger in my chest for emphasis. Again, I didn't understand everything that was said, but I glanced over at their desk and saw that they had security cameras and several close circuit TV's to monitor the whole building, so they obviously saw me use the bathroom. I tried to explain that I went in to use email in the library and the librarian told me I could use the ba ño , pointing in the direction of the librarian, who was reading a book and couldn't have given a damn about the bathroom.

Somehow, the police officer found my response offensive, even though I delivered it calmly and respectfully despite their abusive and hostile tone. The officer then gave me a hard push to the shoulder towards the exit. I think he said something along the lines of "Get the fuck out of here." I was stunned. All I had done was use a bathroom in a public library that I'd been granted permission to use. They were treating me like I was a homeless person who'd been caught doing his laundry or shooting up in the bathroom.

I got out my little notebook and asked them what their names were and that enraged them even more. The security guard started ranting again that the bathroom wasn't open to the public. Really, I'd never in my life seen two people more fiercely protective of a toilet. The officer grabbed my wrist forcefully and said something I couldn't understand.

I jerked my arm free and for a brief moment, wondered if I was about to be arrested for using a library toilet. How on earth could I explain missing my ship because I was incarcerated for urinating in a public toilet? Luckily, it didn't come to that, I gave them sarcastic thanks for the welcome to Mallorca and they hurled a few insults my way as I headed for the exit.

You can run into jerky people in any city anywhere in the world but I'd be lying if I said that these incidents didn't leave a bad taste in my mouth. Random chance can really color your experiences in a place- I'd had the bad luck to run into three of the least friendly people in Palma.

But later in the afternoon, we met some very friendly locals while asking for directions and at a market tapas bar, where we had a delicious glass of wine for, drum roll please, 1 euro and 30 cents. Is it possible to find a glass of wine anywhere in the United States for this price? I seriously doubt it.

So here's my one line summary of Palma: don't bring the kids to this see-tea of cool-tour, watch where you go to the bathroom, and hit the Mercat de l'Olivar for dirt cheap Spanish wine.