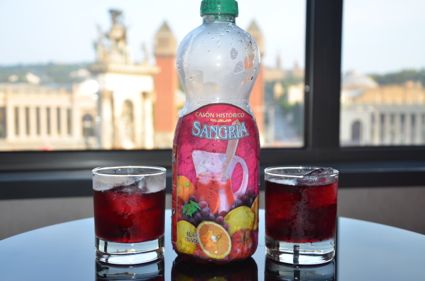 17 Sep

$1 Bottle of Sangria in Spain Vs. $14 Glass of Sangria at JFK Airport

I'm all for cheap drinks but sometimes a drink is so cheap you can't help but be suspicious. On a recent trip to Spain I found myself shopping for sangria in a Barcelona supermarket. There were three choices: one was ˆ1.35, another ˆ1.10, and a third, in a slightly smaller bottle, was just .85. The previous night, we had just paid ˆ8 for a half-liter pitcher of sangria, and in the States, the price is often even higher. Would any of these drinks be palatable?

"They're all good," said a young man stocking shelves, when I asked which one was best. "But this one," he said, grabbing an .85 plastic bottle of Cas ón Histórico, "it's especial."

With that ringing endorsement, I bought a bottle and brought it back to my hotel room, ready for a cheap fiesta. European hotels don't have ice machines, as American ones do, and mine made me pay ˆ3- more than three times the price of the sangria- for a big bag of ice, but I still felt like I was making out like a bandit.

But how does an .85 bottle of sangria taste? Surprisingly good! It was very sweet and was no doubt filled with plenty of unhealthy additives, but the damn thing was cheaper than a bottle of water and it contained both sugar and alcohol, two of my favorite things. It wasn't as good as the pitchers of sangria we enjoyed at restaurants in Spain, but for the price, it was unbeatable.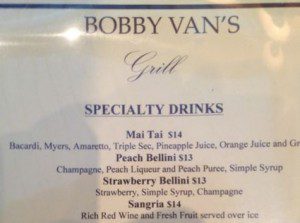 On our way home from Spain, we found ourselves killing time during a long layover at a restaurant in JFK called Bobby Van's.  They had a chalkboard advertisement for sangria and I thought about ordering one until I noticed on the menu that it cost a whopping $14 for a glass. A glass, not a bottle or a pitcher.
Later that weekend, we visited a Trader Joe's and bought a bottle of Maria Ole sangria for $6.99. It tasted suspiciously like the .85 bottle we had in Spain but I bet TJ's would have a hard time selling it for that price, because people like me assume it must be terrible for that price. I'm here to tell you that there is no reason to fear .85 bottles of sangria in Spain. Bottoms up.