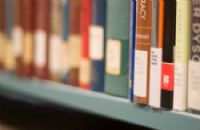 21 Oct

You Can Take Out 75 Books at a Time at the Evanston Library. Seriously.

How great is the Evanston library? Let me answer the question by relaying a conversation we had with a librarian there last week while signing up for library cards.

"Now, you can take out up to 75 books at a time," she said, before my wife interrupted her.

"75 books at a time?" she asked. "Does anyone actually take that many books out at once?"

"Do they do it?" asked the librarian. "Yes. But do I recommend it? No."

I should have asked her how they settled on the 75-rule but didn't because I could barely believe that one could take out more than six-dozen books at a time. When I got home, I called the main branch of the Chicago Public Library and asked how many books one could take out at one time there. The answer? Only 30! Evanston 1, Chicago 0.

Even leaving aside their liberal lending policy, Evanston's main library branch is an incredible place. The selection of books is remarkably comprehensive and if they don't have what you need, they'll get it from another library. They have events for kids, including a weekly Friday afternoon session where college kids read to children. And they've even been showing the presidential debates with, get this, free snacks!

Be careful with what you borrow, however, because these folks will hunt you down as though you were part of an Al Qaeda sleeper cell, and maybe even call in favors at the Pentagon to get a drone strike on your ass, if you don't return something. Not that I know anything about this topic, though, because I always return my books on time. Pretty much.