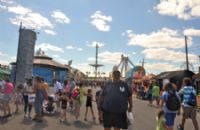 30 Aug

Why I Hate, No Despise The New York Yankees

My hatred of the Yankees and their fans borders on the pathological. I see the Yankees logo on a hat or a bumper sticker and I immediately formulate a negative opinion of the person brandishing it. If Mother Theresa had been a Yankees fan, I would have lost all respect for her. Why? Because any asshole can root for a team that outspends everyone else and hasn't had a losing season in twenty years.

I see that interlocking NY on someone's head or chest and it tells me something about that person- for me; it connotes arrogance, and a serious character deficiency. I have family members and good friends that root for the Yankees, so I don't truly hate all Yankees fans, but do I get a sick feeling in my stomach when I see their logo on the streets? Yes I do.

Who is my favorite team? It's whomever the Yankees are playing on a given night. Believe it or not, I grew up rooting for the Yankees in Buffalo in the 80's. Many of their games were on TV and all were broadcast on WKBW radio. I loved to lay in bed past my bedtime listening to the games. I was too young to really appreciate the great Yankee squads of the late 70's but by the time they hit a funk in '82 I was a die-hard.

Between '82 and the strike in '94, they didn't make the playoffs on a single occasion, but I still loved them. Phil Rizzuto felt like a close relative. I idolized Willie Randolph, Dave Winfield, Dave Righetti, Goose Gossage, and Don Mattingly. But I liked most of the role players too- guys like Steve "Bye-Bye" Balboni, Mike Pagliarulo, Melido and Pascual Perez and all the rest. The teams were bad, but I loved the Yankee tradition and history and I wanted the team to return to greatness in the worst way.

In the strike year of '94, they finally started to win again and since then, they've had a winning record every year, and have made the playoffs every year but 2008, when they won a mere 89 games. I loved the championship teams of the late 90's and couldn't get enough of heart and soul guys like Bernie Williams, Paul O'Neill, Derek Jeter and Tino Martinez, but as the Yankees evolved from a team to a band of high priced mercenaries my fervor began to gradually wane as the Yankees payroll zoomed way past every team in the league.

Back in 1992, the last year the Yankees had a losing record; their payroll was 9th in the league at $34 million. By 1994, they had the highest payroll in the league, a title they've kept every year since, save 1998, when they were narrowly in 2nd, but the gap between the Yankees and every other team wasn't huge until 2003 when their payroll crossed the $150 million mark. Before that date, everyone in MLB was more or less playing by the same rules.

My drift away from the Yankees was gradual. It started when they began to pick up mercenaries that I disliked: Roger Clemens in '99, Canseco in 2000, Jason Giambi in 2002, and Alphonso Soriano in 2003. In 2004, when they got Gary Sheffield, A-Rod and Kevin Brown I was officially off the reservation and when they got the Big Unit the following season, I began to actively loathe them.

Growing up in Buffalo rooting for the Bills and Sabres has given me a love of the underdog and an appreciation for fan bases that stick with their teams through miserable years or decades. Yankees fans these days know nothing about suffering and the younger ones literally cannot even remember what a losing season is like. I'm sure that most of them view that as a positive thing, but how can you really appreciate the thrill of victory if you've never suffered through a 90-loss season? How good does an ice cream cone taste if you sit around eating them all day long?

With the Yankees, there are no rebuilding seasons, no years when they aren't going to contend. They spend enough to make sure that never happens. The current team is old-the average age of their position players is 32.7, the highest its ever been in the history of the franchise, but never fear, when this crop of players departs or proves incapable of putting up numbers, the Yankees will buy replacements.

Yankees fans will argue that some of their best players are homegrown. Well, why not- they have the resources to buy the best organization.

I understand why some people root for the Yankees- they grew up with the team, live in New York, etc- but I find the people from other parts of the country who adopt the team as their own simply because they contend every year loathsome. In a way, it's just cowardly to support a team like the Yankees. I think many of their fair-weather supporters are just shallow people with deep insecurities who want to associate themselves with a successful team to overcome their own inferiority complexes.

Last year, The New York Times noted that criminals who are arrested are most likely to be wearing Yankees hats, but also take a look at the kinds of cars that have Yankees bumper stickers. You don't see them on hybrids or old beaters very often, nope- but you do see them on really huge SUV's, especially Escalade's, Yukon's, Suburbans and the like. Again, the type of team you support and the car you drive say a lot about your personality.

This year, the Rays and Orioles are making the A.L. East interesting, despite the fact that they're spending $64 and $81 million compared to $197 million for the Yankees. How can you not root for one of those teams to do the impossible and vanquish the dreaded Yankees?

Back in 1992, the Yankees were 19th in the league in attendance, and if the team ever returns to mediocrity again, all the fair weathered fans that support them now will once again disappear. Hey, a guy can dream, right?