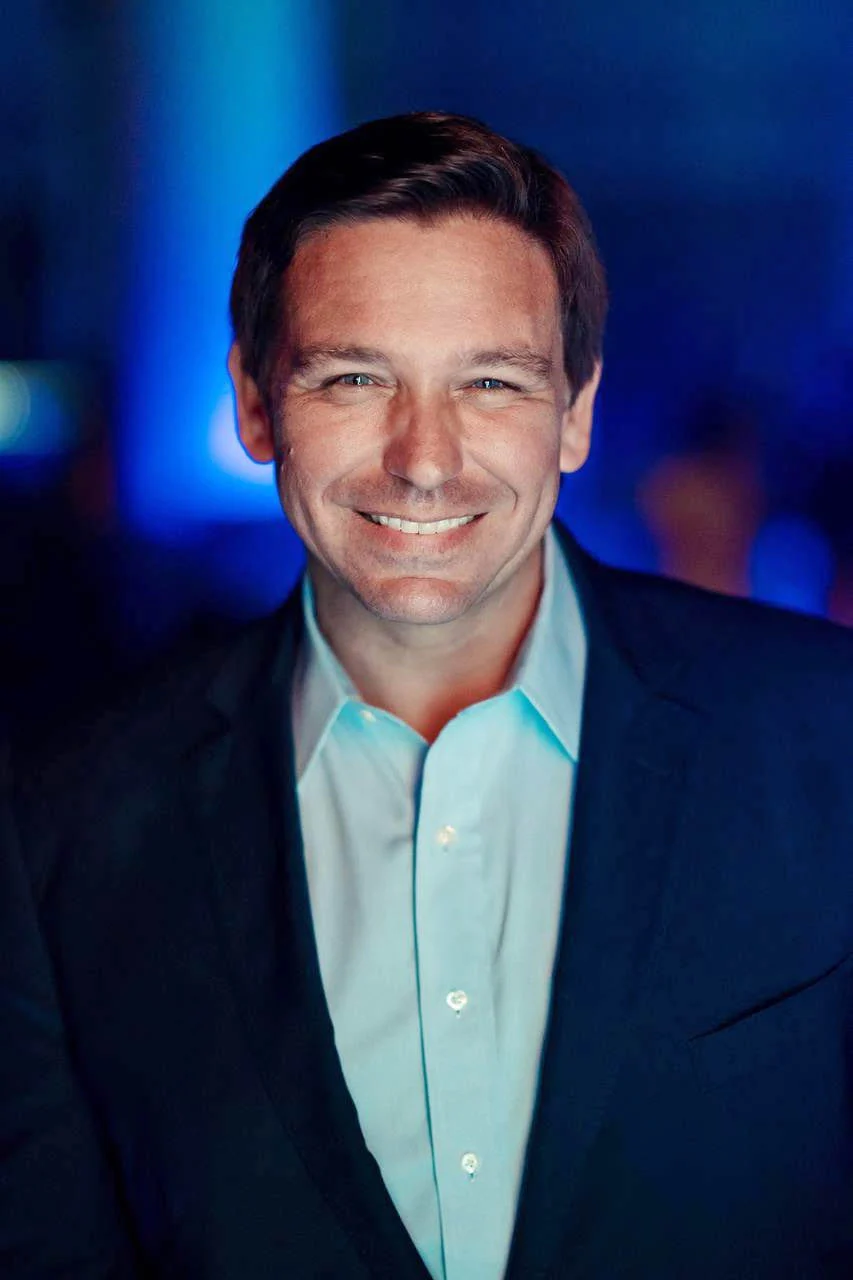 19 May

Ron DeSantis Biography: His Life & Times Revealed in 67 Questions & Answers
Who is Ron DeSantis?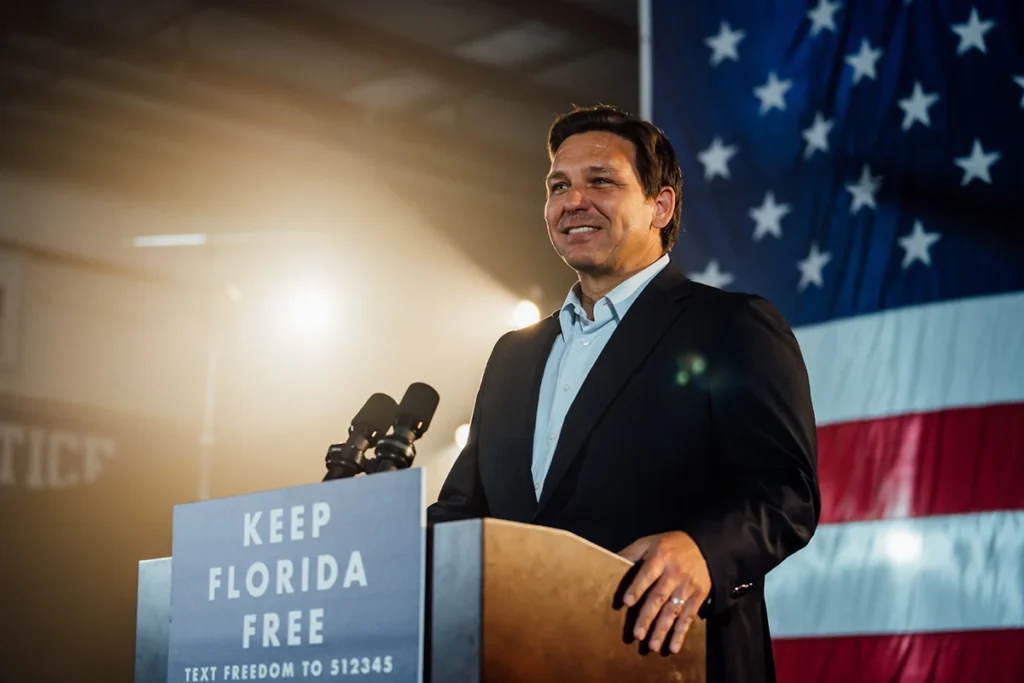 You may think you know all about Florida Governor Ron DeSantis, but I'll give you a money back guarantee right now that you WILL learn a lot from this Q & A bio, unless you are Ron DeSantis or a very close relative and, to be honest, I bet even his close relatives would learn something from this bio, because this is a very in-depth and comprehensive summary of his life and times.
One of the reasons why I'm doing this special episode is because I keep hearing Trump fans allege that Donald is a "man of the people" or variations on that theme and I've heard some of them claim that DeSantis is an elitist. Well, folks, I've digged into DeSantis' past and I wrote an article about traveling to the neighborhood where he grew up, and where his parents still live. I literally knocked on their door and spoke to them for the story I wrote, which is called Travels in DeSantisland. I've also covered Ron DeSantis for The Wall Street Journal, City Journal, The Spectator, Die Weltwoche and other publications.
 Ronald Dion DeSantis is a blue-collar guy, even if the media doesn't advertise him as such. And to be fair, he's not one of these politicians like John Edwards, who told us he was the son of a millworker a million times or Bill Clinton, the man from a town called Hope, or Sandy Cortez, who claims to be from the hood but actually grew up in affluent Westchester. For the most part, DeSantis is all business, and he says very little about his working-class origins and nothing at all about his Italian ancestry and other elements of his life.  Maybe because he went to Harvard and Yale people assume he grew up in an affluent neighborhood but that is not the case, which makes his achievements a lot more impressive.  So, let's ask and answer 67 questions about the man who could be our next President.
Who is Ron DeSantis?
The governor's full name is Ronald Dion DeSantis. His father is Ron DeSantis Senior. His mother and father have Italian ancestry and are very proud of it. Based on my research, he gave his son the middle name Dion after the Italian-American singer Dion DiMucci.
Would DeSantis Be the Youngest President if Elected in 2024?
He was born September 14, 1978, so he's 44. He'll be 46 if elected on inauguration day. For context, Teddy Roosevelt, our youngest president, was 42 on inauguration day,  JFK was 43, Bill Clinton was 46, as was Ulysses Grant. Obama was 47 in case you're wondering. Four other presidents were under 50 on inauguration day: Grover Cleveland, Franklin Pierce, James Garfield and James Polk.
Would a DeSantis-Biden Matchup Be the Largest Age Differential in a Presidential Election?
Yes, it would be and by a lot. The previous record was Obama vs. McCain, that was a 25-year age gap. McCain was 72 on inauguration day, Obama was 47. As Biden will be 82, and DeSantis 46, that would be a 36-year age difference. Imagine what a contrast that would be on the debate stage. Whereas, if Trump is the nominee, not so much, they're only four years apart. Biden is ancient, while Trump is just old.
Who are Ron DeSantis' Parents and What Were Their Jobs?
DeSantis was born in 1978 in Jacksonville. His mother's name is Karen Rogers, she was a nurse before retiring. His father, Ron Sr., installed Nielsen television ratings boxes in people's homes. Ron Sr. is from Aliquippa, Pennsylvania, that used to be a steel town, it's located about a 40-minute drive northwest of Pittsburgh. His mom is from a small town called Poland, just outside Youngstown, Ohio. DeSantis' parents met while students at Youngstown State University. Ron Sr. studied business while Karen studied nursing. After Ron graduated in 1970, he took a job installing audience-tracking devices for Nielsen, the television ratings company. They subsequently moved a few times for this job.
What Religion is Ron DeSantis?
The DeSantis family is Catholic and NBC news interviewed a family friend who said that his mom and dad have siblings who became a priest and a nun.
Is Ron DeSantis Italian?
Yes, he does have Italian ancestry. Ron Sr. has Italian roots, so DeSantis, if he's elected, would be America's first Italian-American president. All of his great-grandparents were born in Southern Italy. His mom also has Sicilian roots on her mother's side.
Where Did Ron DeSantis Grow Up?
DeSantis was born in Jacksonville in 1978, where the family relocated for Ron's job, and then the family moved to Orlando when he was very young and then, in 1985, when he was six or seven, they moved to Dunedin, which is where he spent the rest of his childhood. He wrote this in his memoir, The Courage to be Free, "I was geographically raised in Tampa Bay but culturally my upbringing reflected the working-class communities in western Pennsylvania and northeast Ohio — from weekly church attendance to the expectation that one would earn his keep. This made me God-fearing, hard-working and America-loving."
Here I'm going to read a short excerpt from my Travels in DeSantisland piece to give you an idea of what DeSantis' hometown is like. "Situated on the St. Joseph Sound, Dunedin bills itself as the oldest town between Key West and Cedar Key on Florida's Gulf Coast. It's a city of about 35,000 a half hour drive east of Tampa in northern Pinellas County, which narrowly favored Joe Biden in the 2020 election, though Republicans now outnumber Democrats in party registration in the county. The town was originally named Jonesboro by a late nineteenth-century settler who ran a general store and was later renamed Dunedin, Scots Gaelic for Edinburgh, by a pair of Scottish immigrants who operated a competing store. The town's Scottish roots are still evident: I walked by a Scottish cultural center near Dunedin's downtown and saw posters advertising the annual Highland Games & Festival, which features pipe bands, dancing, competitions and copious amounts of alcohol."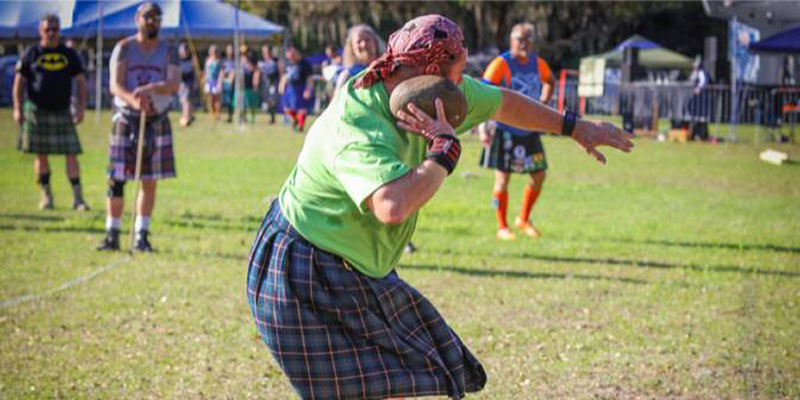 Did Ron DeSantis' Family Have Money?
Not a ton of it, that's for sure. When they moved to Dunedin in 1985 the DeSantis family purchased an 1,829-square-foot ranch-style home for $65,000 east of downtown. The governor's parents still live in the house. I know because I met them. According to Zillow, the house is currently worth $413,000. A few years ago, it was worth half that much but Florida real estate is booming. Does any of this sound elitist, so far? Yeah, I thought not! I walked the streets of this neighborhood, and the homes show pride of ownership, the lawns are cut and there are American flags and lots of DeSantis signs around. But it's clearly a working-class area. There are no fancy homes or expensive cars. A few miles away in downtown Dunedin, there's a lot of wealth, but not out in DeSantisland, my name for his childhood neighborhood, which is a few miles east of downtown Dunedin near a cemetery.
Where Does Ron DeSantis Own Homes?
While Biden and Trump own several homes, Ron DeSantis currently doesn't own one. He told Tallahassee Magazine that he and his wife, Casey, sold their 1,800 square foot house (in Ponte Vedra Beach, FL) and their cars before moving into the Governor's mansion in 2019, knowing they wouldn't need them anymore. According to WUSF, they purchased that house in 2009 for $307,500 and took out a mortgage for $314,111 to pay for it. At the time he sold it, he still owed $263,000 on the mortgage. When he was a congressman, he slept on his couch in his office for all three terms, so he never rented or owned property in The Swamp. DeSantis owned two homes for a period of two years, from 2016-2018 because the boundaries of the (6th) congressional district he represented changed and he wanted a house in his district. So he bought a modest house in Palm Coast, which is north of Daytona Beach, for $242,000 and sold it two years later for $275,000 six months after putting it on the market for $324,900.
Where Else Has He Lived?
He's lived in Jacksonville, Orlando, Dunedin, Ponte Vedra Beach, and Washington, D.C., plus his stints at Yale and Harvard and his tours in the military, which included service in Iraq.
What is Ron DeSantis' Net Worth?
In 2018, he released his tax returns from 2016 and 2017. He and his wife earned $237,000 in 2016 and $238,000 in 2017. In 2022, he released his tax returns again and this time, the couple's only income was his salary as governor, which was $134,181. He reported a total net worth of $318,987 as of December 31, 2021. At the time, he still had a student loan balance of $21,285. The terms of his book deal with Harper Collins haven't been disclosed.
However, Politico reports that he turned down an offer of a nearly $2 million advance from Simon & Schuster after learning that the parent company, Paramount, owns CBS. He was angry at 60 Minutes for a hit piece they did claiming he used Publix grocery stores for the vaccine rollout because the Publix heiress is a donor. 60 Minutes edited out DeSantis' defense to take out all the exculpatory facts of the situation. Even the Washington Post published a column condemning 60 Minutes for promoting fake news and commenting that the incident illustrated why trust in media is at an all time low.
What was Ron DeSantis' childhood like?
DeSantis has said very little about his childhood save his obsession with baseball. He wrote in his memoir that growing up in Dunedin was awesome because he could walk to the Toronto Blue Jays spring training facility.
Did Ron DeSantis Have Siblings?
He had a younger sister, Christina, who was born while they lived in Orlando, but she died at age 30, in 2015, in London. Media reports say the cause of death was pulmonary embolism, but Ron has never spoken about her publicly, though he did write a touching message about Christina when she died.
What Schools Did Ron DeSantis Attend?
DeSantis went to a Catholic K-8 school, Our Lady of Lourdes, and then went to a public high school, Dunedin High School. The current tuition at his Catholic K-8 is $4,100, so it was probably half that when he went there. He also studied history and political science and graduated magna cum laude from Yale in 2001. His father told The New Yorker in 2022 that his Yale degree is still the thing he was most proud of. After a year teaching, he then attended Harvard Law School, where he got his JD, graduating cum laude in 2005. He wrote in his book of his college years, "I am one of very few people who went through both Yale and Harvard Law School and came out more conservative than when I went in. If I could withstand seven years of indoctrination in the Ivy League, then I will be able to survive Washington, D.C. without going native."
Did Ron DeSantis Have a Nickname?
Yep, his friends called him "D" and apparently some still do.
How Did Ron DeSantis Get Into Yale?
According to The New Yorker, DeSantis scored in the 99th percentile on the SAT. Former classmates and teachers have said he was a gifted student.
How Good Was Ron DeSantis at Baseball?
He was pretty damn good, but not good enough to be a pro. Here I'm going to quote from my Travels in DeSantisland article again, "DeSantis played on a team that qualified for the Little League World Series in 1991 and was good enough to feature four players who would go on to be drafted. At Yale, he was a four-year starter who led the team in batting his senior year and served as team captain, while compiling a .313 batting average over his four year career.
Did He Aspire to be President as a Kid?
Apparently so. One of his Dunedin teammates, Brady Williams, now the manager of the Durham Bulls, told the Tampa Bay Times in 2020 that he knew "D" was destined to go into politics. "His goal was to be the president of the United States," he said. "Was that far-fetched? A lot of things we talked about that summer were far-fetched. And a lot of them happened.'' A New York Times hit piece on him in 2022 also said that people who knew him at age 23 say he claimed he might be President one day.
What's in Ron DeSantis' High School Yearbook?
His yearbook said he was awarded the AP American History award and was a member of the National Honor Society. He also won a host of baseball awards. His parents wrote him a message in his senior yearbook, which said, "D the possibilities are endless, knowing what you want early in life, LEADS to success. Seeking careers in areas which you excel MEANS success. Focusing on your strengths, GUARANTEES success. We're happy to know that you're headed in the right direction. (Just send us an e-mail once in a while, will ya?)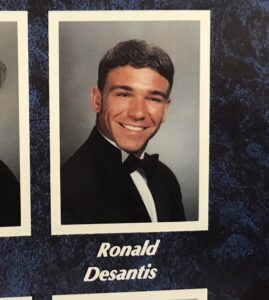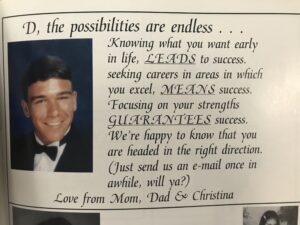 What Jobs Did DeSantis Do When He Was Young?
It says in his high school yearbook that he worked at a grocery store that's no longer in business called Kash N Carry. According to his memoir, he also did other jobs, particularly at Yale, where he says he took any job he could get to pay his bills. He also worked as an electrician's assistant. He told a story about that job, saying that according to OSHA rules, he needed to buy a very expensive pair of boots that he couldn't afford, which he still thinks is ridiculous. In a brief online bio, published when he was 23 years old, it says he had work experience at the Sonic Corporation and as an intern for Florida Senator Connie Mack.
Was Ron DeSantis also a teacher?
He was. After Yale, DeSantis taught history and coached baseball and football for a year in 2001 at the Darlington School in Georgia, which was one of the first private schools in the South to admit blacks in 1905. In a hit piece that was clearly designed to dredge up something negative about him, The New York Times still conceded that the young DeSantis "showed signs back then of being a committed conservative, a young, cool teacher whom girls liked and boys envied." He earned a salary of $27,000 according to The Times, and was given free room and board.
Was He Always a Conservative?
He apparently started to develop his conservative principles at Yale, where he says in his memoir he felt very different from his mostly wealthy classmates. He wrote, "before my time at Yale, I had never seen a limousine liberal." He wrote that he experienced "strident leftism" at Yale that "represented a wholesale rejection of the basic principles that constitutes the foundation of the American experiment." A former student of his at Darlington also told the Times in 2022 DeSantis believed abortion was wrong.
As captain of the baseball team at Yale and got to meet former Yalie, George H.W. Bush. He said he was more a fan of Reagan than Bush 41 but said that the former president was all class when he met him.
What did Ron DeSantis do in the Military?
In 2004, during his second year at Harvard Law, DeSantis was commissioned as an officer in the U.S. Navy and assigned to the Navy Judge Advocate General or JAG Corps. A friend told The New Yorker in 2022 that he was inspired by the Tom Cruise film A Few Good Men, though who knows if that's true. Like Cruise's character, DeSantis became a judge advocate general- essentially a Navy attorney.
In the spring of 2006, DeSantis arrived at Joint Task Force Guantanamo, working directly with detainees at the Guantanamo Bay detention camp. The following year, DeSantis reported to the Naval Special Warfare Command Group in Coronado, California, where he was assigned as a legal adviser to SEAL Team One; he deployed to Iraq in the fall of 2007. He served as legal adviser to a SEAL Commander Task Force in Fallujah. This was during the surge of some 30,000 US troops. 961 troops died in Iraq that year.
The Tampa Bay Times interviewed his commanding officer, Capt. Dane Thorleifson, in 2018, and he said, DeSantis, "was responsible for helping ensure the missions of Navy SEALs and Army Green Berets …were planned according to the rule of law and that captured detainees were humanely treated." "He did a phenomenal job," Thorleifson, 55, said of DeSantis. According to him, "It was up to DeSantis, the lone lawyer with the JAG, to not only assure these men were treated humanely and interrogated in accordance with the Geneva Conventions and U.S. military regulations, but to make sure that, when warranted, they were handed off to the proper legal authorities in Iraq for prosecution in that country's nascent judicial system."
From 2008-2010, DeSantis served as a Special Assistant U.S. attorney at the U.S. Attorney's Office in the Middle District of Florida. DeSantis was discharged from active duty in February 2010. He served in the Navy Reserve until 2019.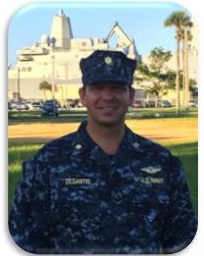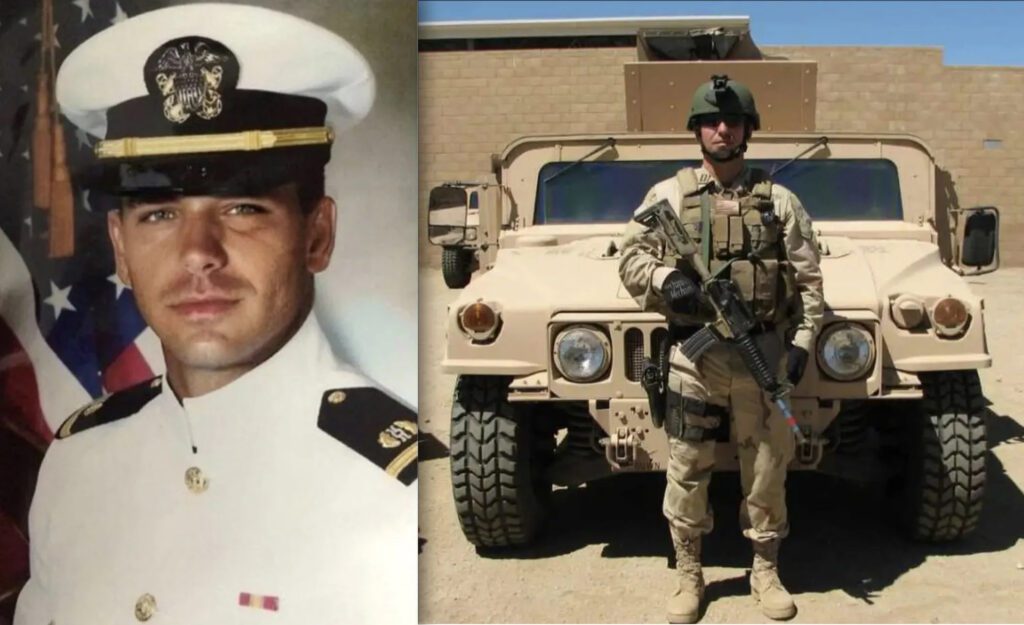 What Awards did Ron DeSantis Earn in the Military?
During his military career, DeSantis earned the Bronze Star Medal, the Navy and Marine Corps Commendation Medal, the Global War on Terrorism Service Medal, and the Iraq Campaign Medal.
Who is Ron DeSantis' Wife?
Florida's First Lady's maiden name is Casey Black. She's two years younger than DeSantis, so she is currently 42 and was 30 when they met. She's from Zanesville, Ohio, which is east of Columbus. She is the daughter of an optometrist and a speech pathologist. She also has Italian roots on her mother's side. Casey attended the College of Charleston in South Carolina, where she received a Bachelor of Science in Economics with a minor in French. According to her official bio, she competed on the equestrian team and placed runner-up at the Division I NCAA National Championships.
How did Ron DeSantis Meet His Wife?
Desantis started dating Casey Black, a television news reporter for WJXT, in Jacksonville in 2006. He reported in his book that he spotted her while driving golf balls at a range at the University of North Florida and chatted her up there. He called their meeting, "my life's most fortuitous moment" in his book. "There was no way I was leaving that driving range without asking her on a date," he wrote. Their first date was reportedly at Beef O'Gradys.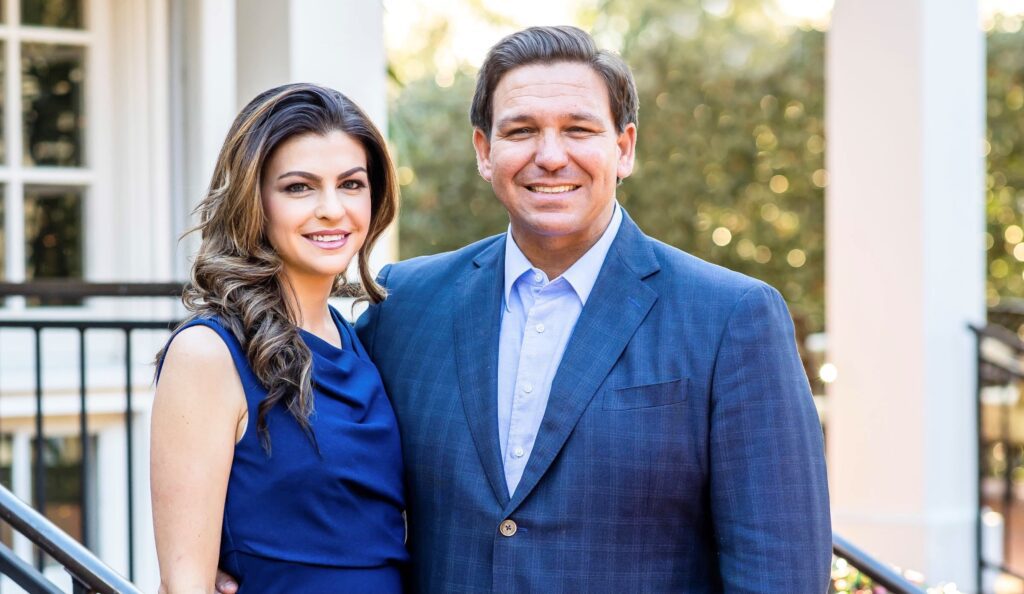 Was Casey Black a Journalist?
She was, which is kind of funny considering DeSantis' frosty relations with the press. She worked for the PGA Tour as a producer and an on-air host. She later worked for two Florida television stations in Jacksonville, where she worked as a general assignment reporter, police beat reporter, weekend anchor, and morning anchor. The First Lady also received an Emmy Award for on-air talent and two Emmy nominations: one for an investigative series called Real Life CSI and one for a documentary called Champion, The JT Townsend Story.
What is Casey DeSantis' Role as First Lady?
As First Lady, Ms. DeSantis has been involved in a variety of roles, according to her official bio. She spearheaded an initiative called Hope Florida, which seeks innovative ways to assist single parents, Floridians on government assistance, mothers contending with substance abuse disorders, and children aging out of the foster care system. Other initiatives she's led have focused on mental health, mental illness and substance abuse.
A recent hit piece on her in Politico asserts, via a series of quotes from anonymous sources that DeSantis relies on her too much.
Is Casey DeSantis a Cancer Survivor?
She is. In October 2021, Casey DeSantis was diagnosed with breast cancer. She underwent chemotherapy and thankfully the treatments were successful. In March, 2022, the couple announced that Casey was cancer free.
Did Ron DeSantis and Casey Black Really Get Married At Disney World?
They sure did. Another bit of hilarious irony. DeSantis reported in his memoir that they were married in 2010 at Disney World, as per Casey's request. He wrote in his memoir, "Casey's family was what one might call a family of Disney enthusiasts. They loved going to Disney World," he wrote in a chapter titled "The Magic Kingdom of Woke Corporatism." "Being the dutiful groom," he said, "I deferred to her. My only condition was that no Disney characters could be part of our wedding. I wanted our special day to look and feel like a traditional wedding."
He's said that he planned the proposal while serving in Iraq. According to Business Insider, They exchanged vows at the Grand Floridian's wedding pavilion, a chapel overlooking Cinderella Castle and the Seven Seas Lagoon at Disney World. The reception was held at Epcot's Italy Isola.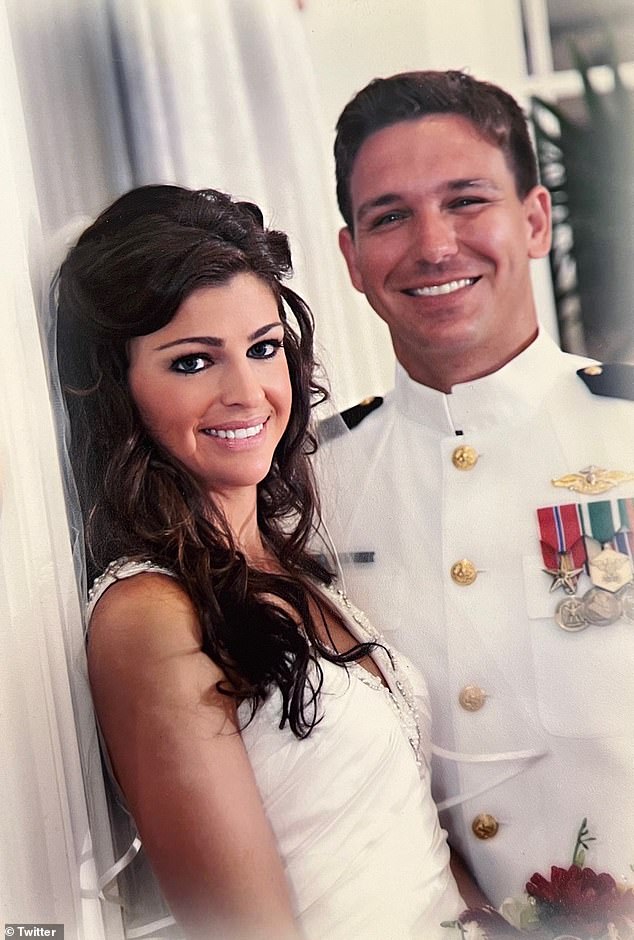 How Many Children Does Ron DeSantis Have?
The couple has three children. They had their first baby, a girl named Madison, in 2016. In 2018, their son Mason was born. On March 30, 2020, the DeSantis' third child, a girl named Mamie, was born. She was the first baby born in the governor's mansion in more than 50 years. According to the family bio, Madison loves swimming, jumping on the trampoline, eating ice crean, t-ball and golf, while Mason is into baseball, swimming and golf. Mamie loves her siblings and the show Bluey, which I'm not familiar with, but gather it must not be woke, otherwise she certainly wouldn't be watching it. DeSantis has posted a few notable videos of the kids. In one, Mason, then three years old, shows off a very impressive golf swing.
And, in a campaign ad in 2018, he showed Madison building blocks and instructed her to "build the wall." He also reads, The Art of the Deal to Mason and shows him in his crib with a MAGA onesie. Looking back on this, seems cringeworthy to me now but I get that they were trying to be funny and win over the base.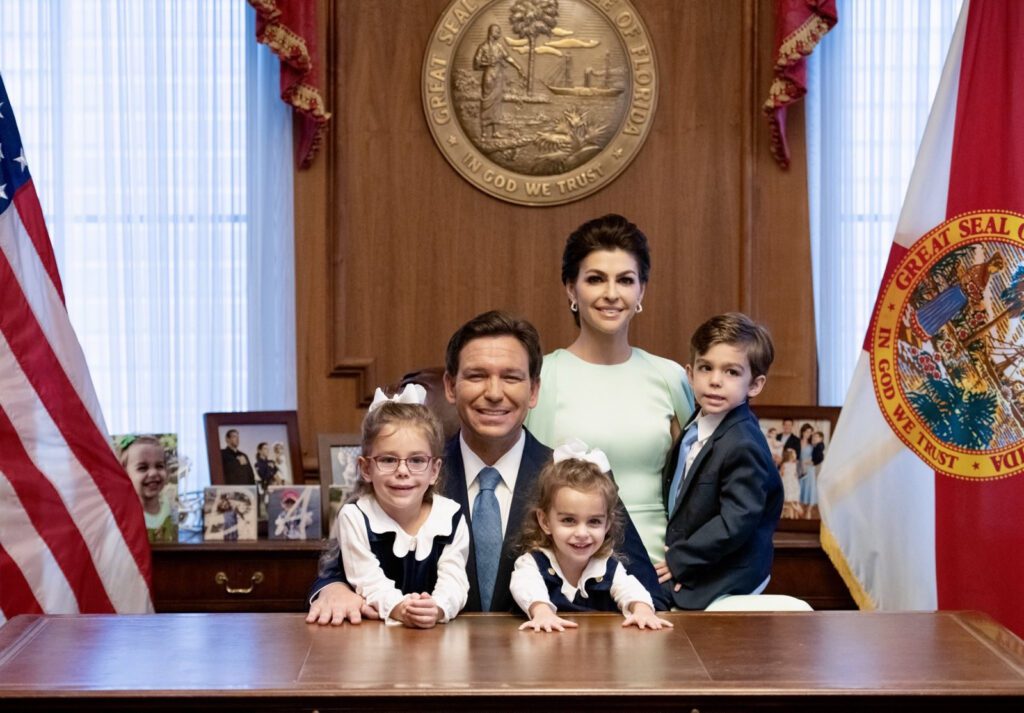 What is Ron DeSantis' First Book, Dreams of Our Founding Fathers About?
In 2011, DeSantis' first book came out, Dreams from Our Founding Fathers"—a dig at Obama's memoir, Dream from My Father. The left-wing writer at The New Yorker Dexter Filkins, no fan of the governor, wrote about it, "For a campaign book, it's unusually wide-ranging, with carefully argued sections on the Federalist Papers, the Progressive Era, and the leftist theoretician Saul Alinsky." Reason magazine said the book, "alternated between a love letter to the Framers (of the constitution) and a condemnation of what he saw as Obama's betrayal of their principles." He traveled around the state speaking to mostly small groups about the book and continued to campaign. The book is now out of print and sells for nearly $2,000 on Amazon.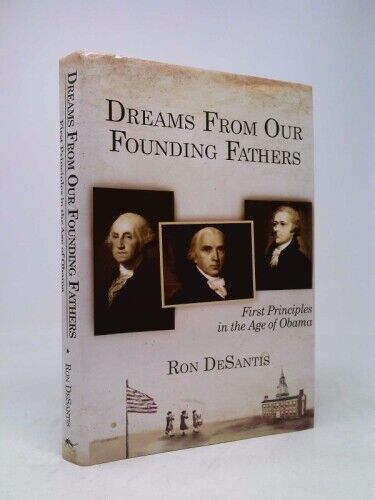 How did DeSantis Get Elected to Congress?
A seat opened up in the Sixth Congressional District, south of Jacksonville Beach in 2012, and DeSantis entered the race as a Republican candidate. In his memoir, he described how he and Casey got lists of likely Republican primary voters and would go to neighborhoods and then split up, with her taking half the addresses and he took the other half. He said she was an amazing campaigner and estimated he won the votes of at least 90 percent of the households Casey visited.
DeSantis beat six candidates in the 2012 GOP Primary, capturing 39% of the vote while the next closest rival had 23%. And he beat Democratic nominee Heather Beaven, another young Naval veteran who was a nonprofit CEO, in the general election with 57% of the vote. During their lone debate, DeSantis argued for fiscal restraint in Washington, a theme he'd champion while in office. `We're spending at a level that's simply unsustainable," he said. "If you are already running trillion-dollar deficits" how can you spend more?
Who did Ron DeSantis Beat to Win Reelection Twice?
He beat David Cox, a teacher from Daytona Beach, in 2014 with 63% of the vote. Two years later, in 2016, he beat Bill McCullough, an investment banker, with 59% of the vote.
What Did Ron DeSantis do in Congress?
DeSantis had a consistently conservative voting record in Congress and served on the Judiciary, Foreign [Affairs], and Government Oversight and Reform committees. According to an analysis of his record as a congressman by New York One, DeSantis was the lead sponsor of 52 pieces of legislation in Congress. Only a handful of his bills made it through the House, and none of the bills became law, which is typical for a young congressperson without seniority.
On foreign policy, some of his key bills were the Recognition of Jerusalem as the Capital of the State of Israel Act and the State Sanctions Against Iranian Terrorism Act. He crafted the Targeting Child Predators Act of 2017 to give law enforcement more time to gather online evidence against perpetrators.
He was also a co-sponsor of 550 pieces of legislation. Some included a bill to make Puerto Rico a state, legislation to defund Planned Parenthood, and a bill to repeal the Affordable Care Act. And he backed legislation called the FairTax Act to replace federal income taxes with a national sales tax and eliminate the Internal Revenue Service.
DeSantis wrote in his book that he didn't want to join the "professional ruling class" of the Swamp. To save money, he slept on the couch of his office as I said. He also declined the congressional pension and health care plan and stopped trading stocks. A host of liberal media outlets have claimed he was a loner during his time in DC. In all likelihood, he was just a workaholic, who was focused on his job and not socializing in the Swamp.
He wrote in his memoir that his time in Congress illustrated for him that the GOP leadership was out of touch with its voters, particularly on issues like immigration. He wrote that the Swamp protects its own. ""Ingrained in Beltway thinking is a contempt for average voters, particularly voters who reject leftist ideology," he wrote. "This helps fuel a conventional wisdom that is almost always wrong — and which is untethered from what is really happening throughout the country."
Was Ron DeSantis Injured When James Hodgkinson Went on his Shooting Rampage in 2017?
DeSantis was approached by James Hodgkinson, the crazed leftwing nut who opened fire at Republicans practicing for a congressional baseball game in 2017. DeSantis and another teammate left practice early and Hodgkinson asked him if the players were Republicans or Democrats while staking out the scene. DeSantis was very lucky he left early because he was playing third base and would have been directly in Hodgkinson's line of fire.
Why Did DeSantis Leave Congress to Run for Governor?
DeSantis reckoned, correctly as it turned out, that Democrats would take control of Congress in 2018, so he decided to run for Governor.
Was Ron DeSantis Really at 3% in the Polls When Trump endorsed him in 2018?
No, this is another good example of how full of shit Donald Trump is. Trump has made a lot of how he's supposedly responsible for saving DeSantis' career by endorsing him for Governor in 2018. He's claimed repeatedly that DeSantis was at 3% in the polls when he endorsed him and would be working at Burger King if it wasn't for him.
What's the truth? Trump issued his endorsement on June 22, 2018. A Fox News poll released the day before the endorsement had DeSantis trailing Adam Putnam 32-17 with 39% of voters undecided. 39% undecided so that's a huge number in late June given that the primary was just two months away on August 28. Another poll that week from Marist College, had DeSantis at 21 percent and Putnam at 38. Still a far cry from 3% and there were a few earlier polls from Gravis Marketing, Florida Atlantic University and others that actually showed DeSantis with a lead well before the endorsement. And he was never in the single digits, so Trump's claims are grossly exaggerated.
So How did DeSantis win the GOP Primary for Governor in 2018?
DeSantis and Putnam had their first debate a week after Trump's endorsement, on June 29. DeSantis effectively hit Putnam on illegal immigration, saying, ""I will sign e-verify into law in the state of Florida," DeSantis said, and he did so this month by the way. "(Putnam) won't do that because the big ag donors who fund his campaign want that cheap foreign labor. That lowers wages for our Floridians. It's bad for the rule of law. It's not good for taxpayers."
The candidates debated again on August 8 and DeSantis derided Putnam as "basically the errand boy for U.S. Sugar." He said, "He is going to stand with them. He is going to give them everything they want." DeSantis said "Big Sugar" has probably spent $10 million total in attack ads against him.
Here's how Politico explained DeSantis' attacks at the time. "A tea party congressman, DeSantis has earned the industry's ire in Washington for repeatedly opposing the farm bill, in part because he objects to subsidy-like price supports for sugar."
DeSantis also attacked Putnam for opposing Trump. "This is a guy who, when we were trying to beat Hillary Clinton, said Trump was 'vile,' 'obscene' and 'dishonorable.' Never showed up at a single rally," DeSantis said. "He could have put his picture on a milk carton — no one knew where he was during the campaign."
The bottom line is the Trump's endorsement helped DeSantis, but he obviously had to perform well in the debates to win over that 39% who were undecided, and he did. As various news outlets have corroborated, Trump endorsements aren't golden tickets. Some of his candidates win, some lose. And 2018 wasn't a great year for Trump, as Republicans lost 41 seats in the House and lost both the Georgia run off seats in the Senate.
In any case, DeSantis ended up beating Putnam in a landslide, 57 to 37. In the end, I think it would have been difficult for a moderate Republican like Putnam to win a primary in Florida regardless of endorsements and, if you watch their debates, it's pretty clear DeSantis won both of them, even if the media didn't give him credit for it.
How did Ron DeSantis Beat Andrew Gillum in the 2018 General Election?
The general election was much closer than the GOP primary, with DeSantis prevailing by just 40,000 votes out of more than 8 million cast or four tenths of one percent of the vote. Prior to the election, the Real Clear Politics average of polls had Gillum up by a comfortable 3.7%. and CNN released a poll showing Gillum up by 12%. Gillum was pretty far leftwing- he was championed by Bernie Sanders, who held rallies for him, and Gillum was the mayor Tallahassee, which is the home of Florida State University and is the most liberal enclave in the state. And that's probably why the media LOVED Gillum and out of state donations poured into his campaign. The Washington Post, for example, compared Gillum's campaign in a headline as potentially evoking "the Obama excitement." The media tried to make him the next Barrack Obama, but thankfully it didn't work even though Obama campaigned for him in the state.
In a debate two weeks before the election, DeSantis said he stood up to Trump on occasions when he disagreed with him, citing an example of him opposing Trump's idea to sanction offshore drilling off Florida's coast. Gillum tried to capitalize on a DeSantis gaffe during the campaign when he said Florida voters shouldn't monkey it up by electing a socialist like Gillum. In 2023, someone leaked debate preparation where DeSantis argued that he should forcefully rebut the baseless attack. In the video, Casey said her husband probably mistakenly used the term because he'd been reading their kids their favorite book, Five Little Monkeys Jumping on the Bed.
In The Courage to be Free, DeSantis called the 2018 governor's race "the most consequential election in the history of our state." He wrote, "Had I not been successful in that election, the entire trajectory of our state would have been much different, especially once the COVID-19 pandemic hit and governors around the country used it as a license to wield unimaginable powers and, at the direction of Dr. Anthony Fauci, impose draconian restrictions on their states." He didn't mention that Trump gave Dr. Fauci, along with others, a Presidential commendation right before he left office in 2021.
Did Trump Claim he Stopped the Steal in the 2018 Florida Gubernatorial Election?
Yes he did, and it was more Trump b.s. that only someone sucking on the ultra maga crack pipe for a very long time could believe. On November 10, 2022, Trump falsely claimed that he prevented the Democrats from stealing the 2018 election from DeSantis. Trump wrote on Truth Social, "after the Race, when votes were being stolen by the corrupt Election process in Broward County, and Ron was going down ten thousand votes a day, along with now-Senator Rick Scott, I sent in the FBI and the U.S. Attorneys."
So, Was There Fraud in the 2018 Florida Gubernatorial Election?
There was apparently fraud in Broward County, one of the state's most liberal counties, as there often is. The county published an audit after the election, which concluded, "that there were backlogs in processing mail-in ballots and that half of the precincts reported more votes than voters." But Trump didn't send in the FBI or anyone else so his claim is baseless and has been roundly debunked.
What Happened to Andrew Gillum?
Gillum sank into a depression after losing and was found unconscious alongside a gay male escort with three bags crystal meth in a Miami hotel in March 2020. He later went into rehab and announced he identifies as bisexual in September 2020. In May 2023, Gillum was acquitted of lying to the FBI but the jury couldn't reach a verdict on more than a dozen other corruption-related charges, including conspiracy and wire fraud. Federal prosecutors later asked a judge to drop the remaining charges.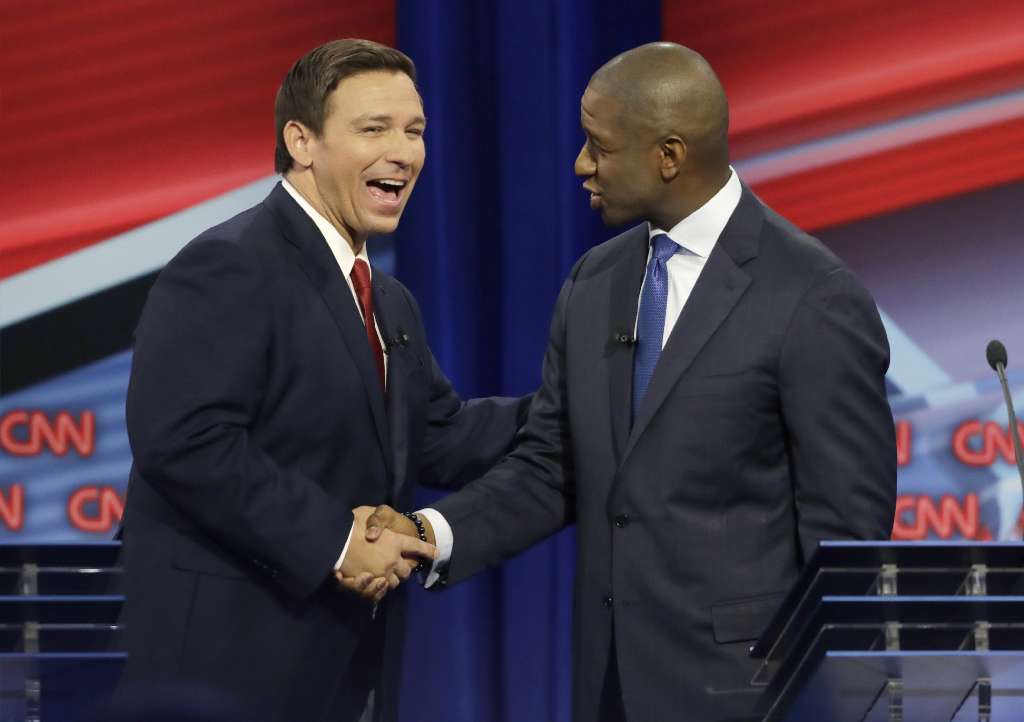 Was Ron DeSantis Florida's Youngest Ever Governor?
Not quite. In winning the 2018 race, DeSantis, at 40, became Florida's youngest governor in more than a century. The man who still holds the record for youngest Florida governor is Park Trammell, who took the oath of office in 1913, as a 36-year-old.
Was Ron DeSantis a Lockdown Governor, As Trump Claims?
Hell no! More Trump baloney here and, again, you'd have to have that Ultra Maga crack pipe glued to your mouth to believe this one. DeSantis made few headlines in 2019, but when the pandemic hit, he became the country's most prominent opponent of mask and vaccine mandates. His efforts to "keep Florida free" and reopen the state in late April 2020 earned him scorn from the liberal media, who unfairly dubbed him "DeathSantis."
How Did Ron DeSantis and Florida Perform on Covid Deaths?
The media and Democrats and lately Trump dishonestly failed to adjust the state's Covid case and death numbers to account for age in order to make him (and Florida) look bad. As I noted in a piece for City Journal at the time, Florida is officially the country's third oldest state, but if you factor in the state's elderly seasonal snowbird population, it's probably the oldest. If you examine age adjusted per capita covid death rates, Florida was better than average among the 50 states, in 31st place, meaning 30 states did worse, and it was quite similar to California, despite keeping schools and businesses open while California did the opposite. Trump recently wrote on Truth Social that Florida had the third most Covid cases during the Pandemic. Well, hello, Donald, Florida is America's third largest state, and the two states that had more cases were California and Texas, which are the two largest.
How Did DeSantis Win Re-Election by Almost 20 Points in 2022?
DeSantis' landslide win in 2022 was really a vindication of his performance in office. The media told us he was Hitler reincarnated but we felt otherwise. DeSantis beat Charlie Crist, the former governor by 19.4 points on a night when almost nothing else went right for Republicans around the country. It was truly a historic beatdown and he had coattails too. There now isn't a single Democrat left in statewide office. It was the biggest landslide in Florida since 1868, when Harrison Reed captured 59% of votes to 32% for his Democratic challenger during Reconstruction, when fewer than 20,000 Floridians voted.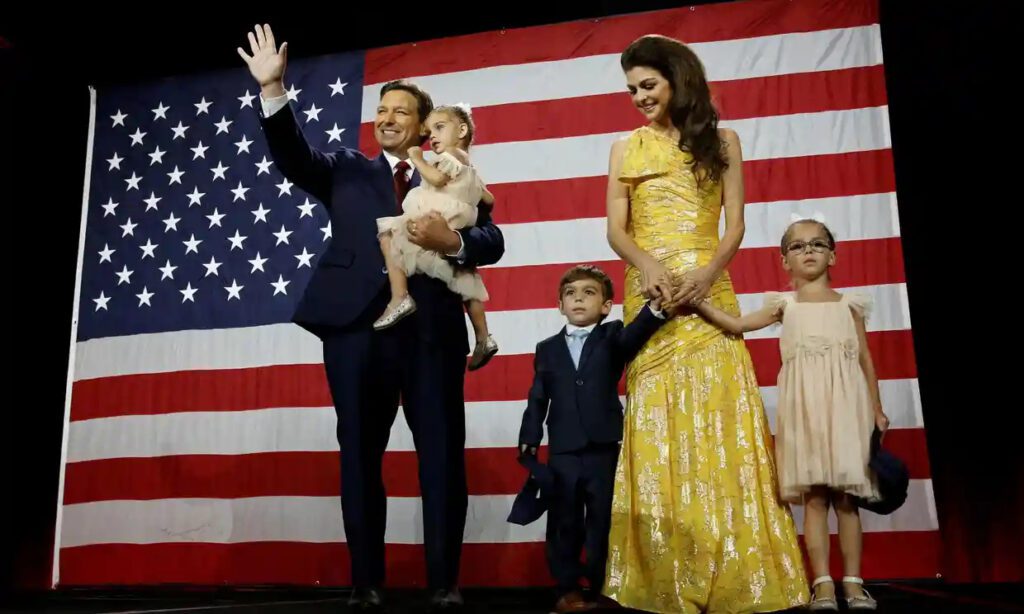 Now here I'm going to quote from an article I wrote about DeSantis' win for The Wall Street Journal. "In 2018 Mr. DeSantis got 39% of the vote in Miami-Dade County, which is 70% Latino. In 2022 he earned 55%. In Palm Beach County, he won 51% of the vote this year, compared with 41% in 2018. In Hillsborough County (Tampa), he went from 45% in 2018 to 54% in 2022. He improved his margins in counties in southwest Florida that were hard hit by Hurricane Ian, winning Charlotte, Lee and Collier counties with around 70% of the vote. In Osceola County, near Orlando, where Mr. Trump lost by 14 points, Mr. DeSantis won by 7. Exit polls showed that DeSantis won the Latino vote by 15 points.
What were the keys to his success? Competence in office. Fiscal responsibility. Competent and effective hurricane recovery efforts. Staying on the offense. Courting moms by looking out for kids and expanding school choice opens and keeping the schools open. And, I think, most important keeping the state open and fighting wokeness. I explained the keys to DeSantis' big win in a City Journal article called Ron's Rules: 8 Reasons Why the Florida Governor Had a Big Election Night, so check that out if you're interested, there's a link to it on my website.
What are Some of Ron DeSantis' Policies & Achievements in Office?
As governor, DeSantis has signed into law a staggering array of legislation aimed at making Florida the place where woke goes to die. DeSantis is a private guy, he's not one to blather about himself. He's not going to tell you what kind of underwear he wears like Bill Clinton did. He's not a wanna be stand-up comedian like Trump is. So let's get into the policies.
Is DeSantis Against Diversity, Equity and Inclusion Initiatives?
Indeed he is. DeSantis is a vocal opponent of DEI, which he calls discrimination, exclusion and indoctrination. DEI initiatives are now illegal in Florida's state universities with the passage of SB 266.
Where Does Ron DeSantis Stand on Critical Race Theory?
He also opposes critical race theory and has signed legislation, the STOP WOKE ACT, in 2021, ensuring that it can't be taught in public schools and Floridians don't have to swallow any woke corporate indoctrination sessions where critical race theory is promoted. DeSantis also has named Christopher Rufo, a Manhattan Institute fellow who is one of the nation's leading opponents of critical race theory, to the board of trustees at the New College of Florida.
Does the Parental Rights in Education/ Don't Say Gay Law Prevent Students or Teachers from Saying the Word "Gay" or Discussing LGBT topics?
No it doesn't. The words "gay" "homosexual" or "LGBT" don't even appear in the legislation. DeSantis is a proponent of parental rights in education, including a law, HB 1557, of the same name the media has bogusly dubbed "Don't Say Gay, which prevents schools from giving "classroom instruction on gender identity and sexual orientation" up to the 8th (It was initially up to third grade and was expanded by law to 8th grade in 2023.)
In a court challenge to the law, the state clarified that "classroom instruction" does not include casual conversations and the like. Here's the quote from the lawsuit. "Far from banning discussion of sexual orientation and gender identity, the legislation expressly allows age and developmentally appropriate education on those subjects. Consistent with that modest limitation, the law prohibits classroom instruction on sexual orientation and gender identity for the youngest children, neutrally allowing all parents, no matter their views, to introduce those sensitive topics to their children as they see fit."
In any case, the media has distorted the truth but a March 2022 poll by Public Opinion Strategies indicated that 61% of respondents, including 55% of Democrats, agree with the Parental Rights in Education law and only 26% opposed it.
Where Does DeSantis Stand on Trans Athletes, Including Pronoun Usage and so-called Gender Affirming Care?
DeSantis opposes sex change procedures for children and thinks teachers and students shouldn't have to use preferred pronouns if they don't correspond to a child's biological sex. He also thinks trans athletes should compete against others of their own biological gender.
A host of recent laws he's signed advance these and related causes. HB 1069 "protects students from having to declare their pronouns in school. Additionally, this bill expands the parental rights in education law by prohibiting classroom instruction on sexual orientation and gender identity in Pre-K through 8th grade." Also, SB 254 , which was just recently passed, outlaws "permanent mutilating surgeries and experimental puberty blockers" for children. And, HB 225 protects female athletes from having to compete against biological men, among other things.
Where Does Ron DeSantis Stand on Family Friendly Drag Shows and Bathroom Issues for Trans People?
DeSantis recently signed a new law HB 1438 which protects children from "sexually explicit adult performances in all venues—including drag shows and strip clubs."He also signed another new law, HB 1521, which requires "educational institutions, detention facilities, correctional institutions, and all other public venues in the state with restrooms, changing facilities or locker rooms to have separate facilities available for men and women based on their biological sex."
Does Ron DeSantis Support Book Banning?
Critics have claimed he supports book banning, which, of all the lies told about him, this is probably the one that annoys me the most. Please listen to episode 7 of my podcast, DeSantisland, as I delve into that deeper. Books with adult content have been removed from Florida public school libraries. As of March, the governor's office claims that 175 books were removed statewide. But they are still available elsewhere and the content in these books is truly for adult consumption, even if they are marketed as being for young adults, as I illustrated in episode 7 of the podcast, and also in a new article I just wrote for City Journal where I detail what's in five of the banned books, all of which I was able to find at my local library with no problem whatsoever. The headline of that article is, "Have you looked inside any of these books?"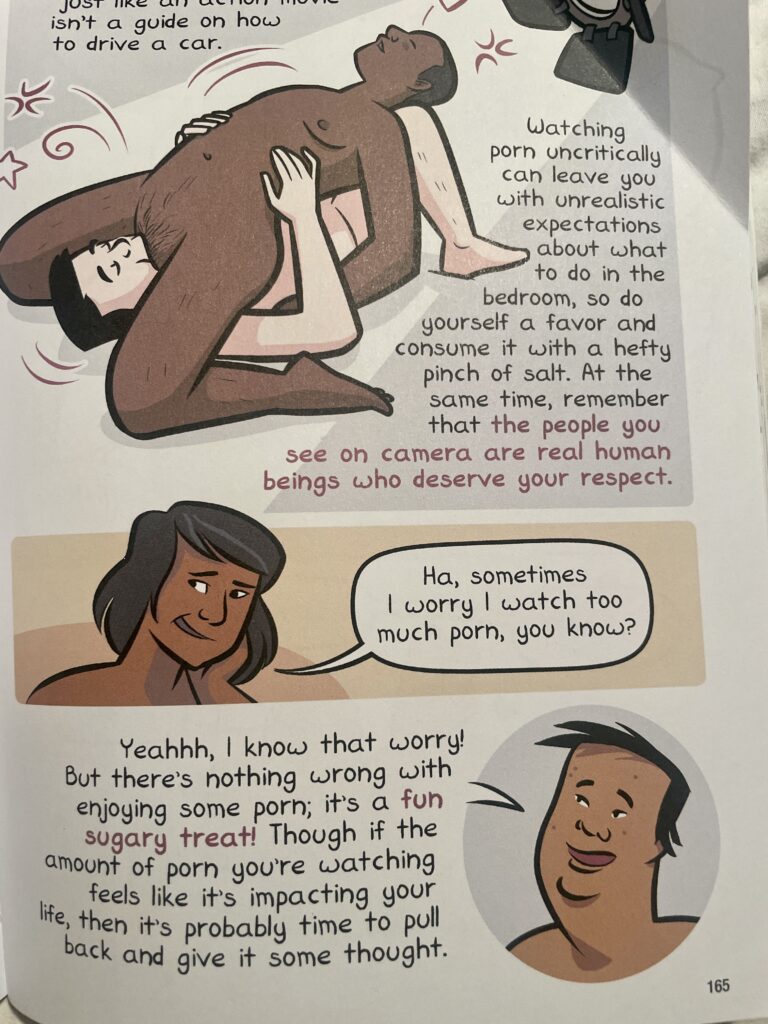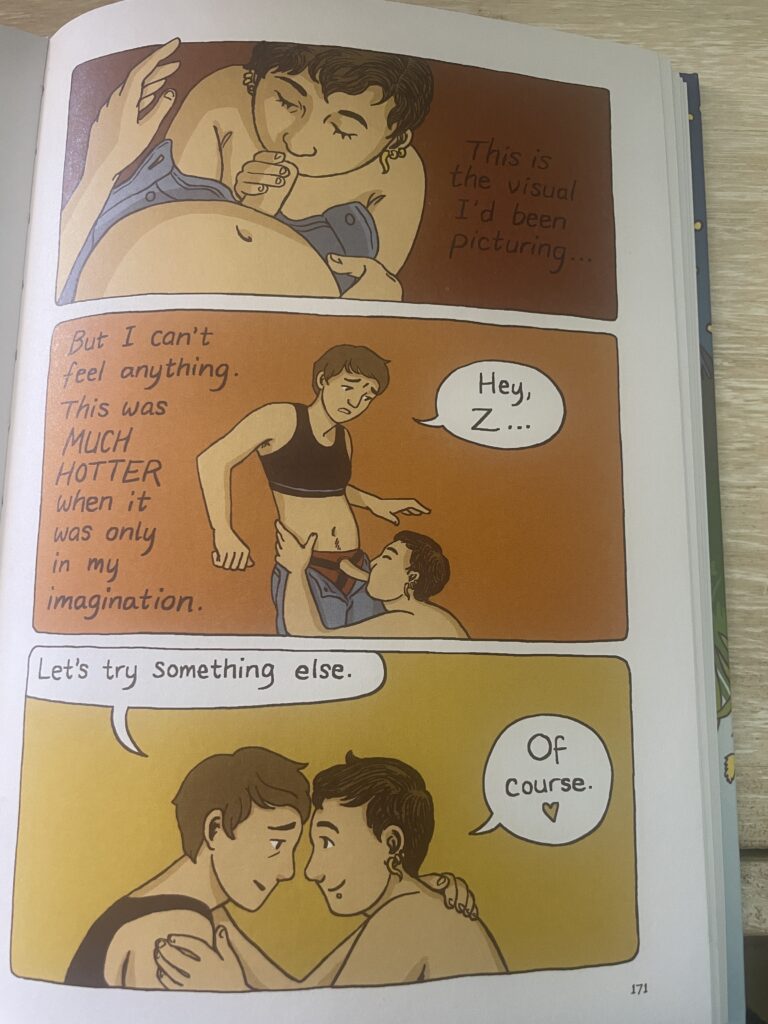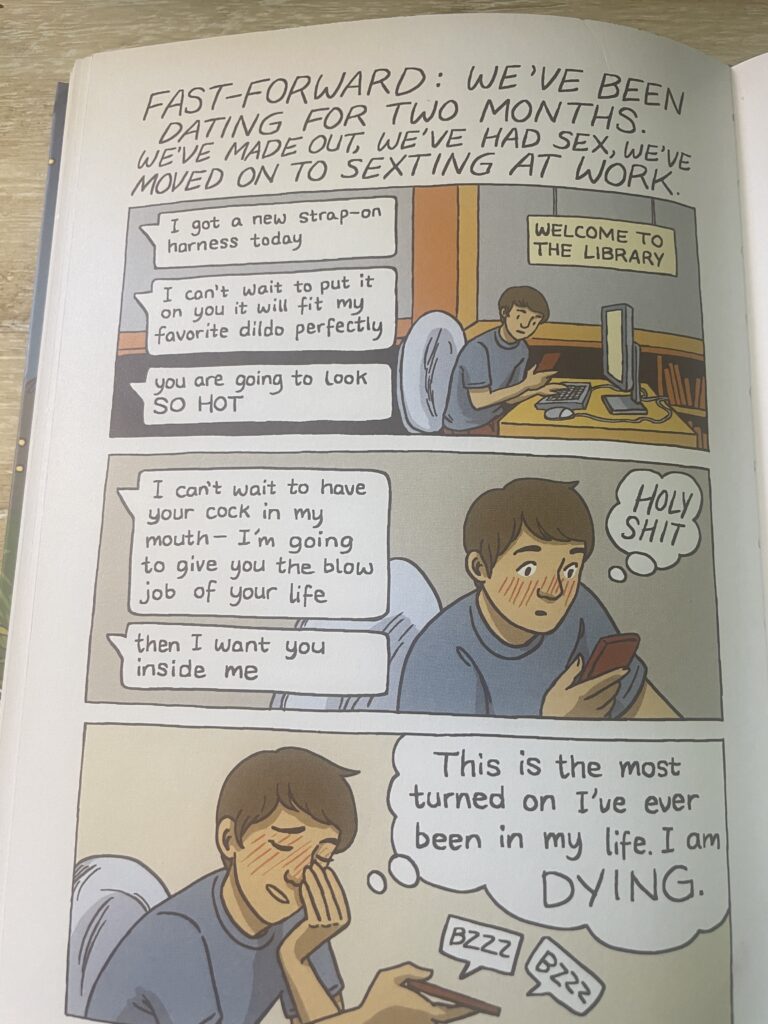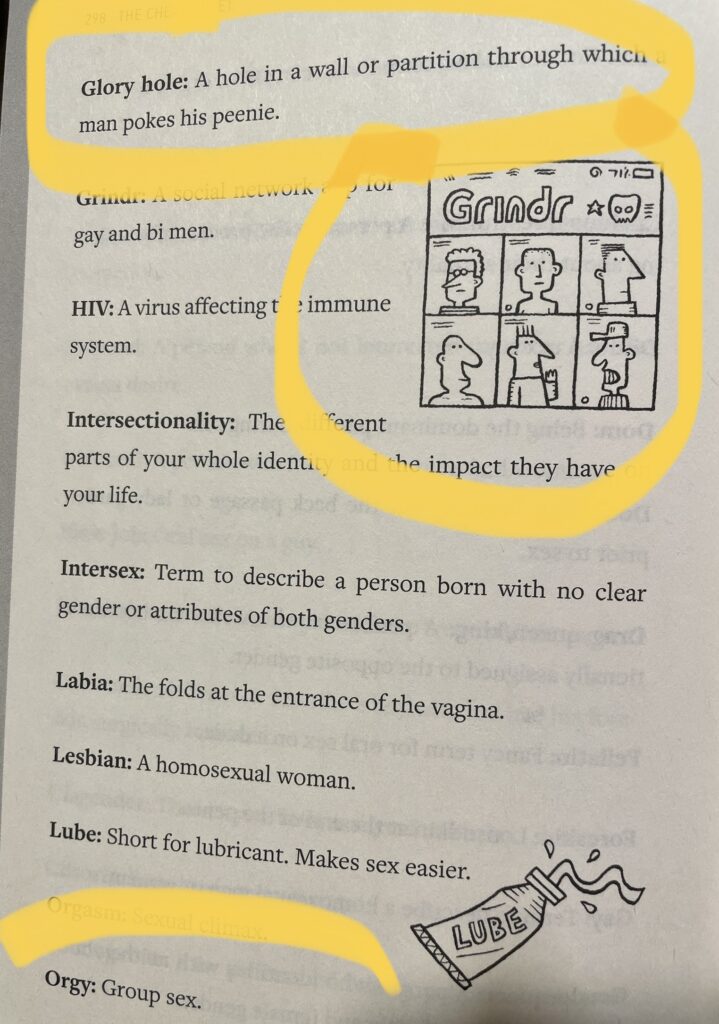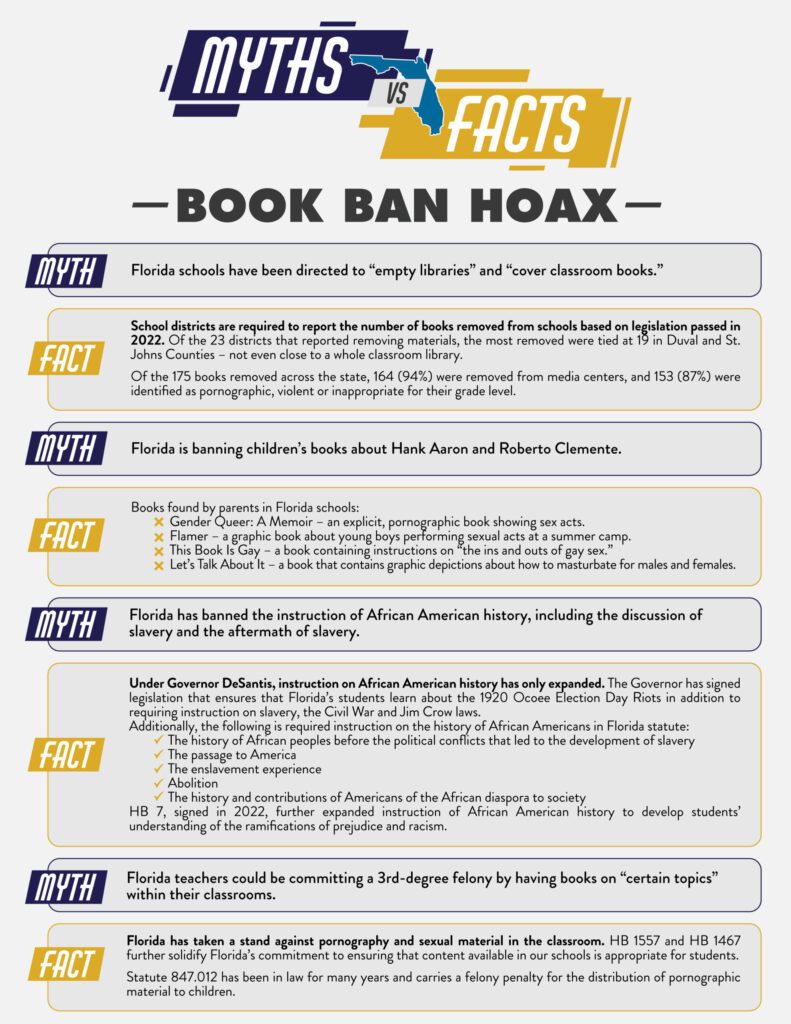 Is Ron DeSantis Fiscally Conservative?
DeSantis has been a champion of what he calls respecting taxpayers and limited government. In 2022, The State had a record budget surplus of nearly $22 million. It is also the country's fastest growing state, with droves moving here during the pandemic. The state grew 1.9% from 2021 to 2022. According to the Census Bureau, it was the first time since 1957 that Florida was the country's fastest growing state.
According to the Wall Street Journal, the annual state government budget is almost exactly half that of New York's, $114 billion versus $227 billion, despite the fact that Florida has almost 3 million more residents than Florida. Fiscal restraint has been the order of the day under Governor DeSantis. And, according to the Tax Foundation, Florida has the 11th lowest tax burden in the country. According to US News & World Report, it has the 5th lowest tax burden in America.
What's DeSantis' Position on Big Tech?
In June 2023, he signed SB 262, a Digital Bill of Rights. The law requires Google and other large search engines to disclose whether they prioritize search results based on political ideology. Additionally, SB 262 prevents government-led censorship by prohibiting state or local government employees from colluding with Big Tech companies to censor protected speech. The law also establishes the right to control personal data, including the right to confirm, access, and delete your personal data from a social platform, as well as the right to know how internet search engines manipulate search results.
What is DeSantis' Position on Illegal Immigration?
DeSantis believes in the rule of law and has sought to make Florida a law-and-order state, one where illegal immigration isn't tolerated. The state just passed one of the toughest anti-immigration measures in the country. I detailed what's in that law, SB 1718, in episode 11  of my podcast DeSantisland, so check that out if you're interested in the details. In a nutshell, it requires employers with at least 25 employees to use E-verify, it creates penalties for human smuggling illegal aliens across state lines, it invalidates out of state driver's licenses given to illegal aliens, and it requires hospitals to file reports about the cost and impact of uncompensated care given to illegal aliens.
Why Did He Transport Illegal Migrants to Martha's Vineyard?
First of all, the transport was voluntary. No one was forced to go there, and, by the way, if you haven't been there, Martha's Vineyard is a beautiful island, so it's not like he sent them to Guantanamo. Second, this was a group of just 50 Venezuelans and the citizens of Martha's Vineyard acted like it was a huge disaster. Meanwhile, border towns have tens of thousands of new migrants to house. The fact that they were shipped out within 24 hours illustrated DeSantis' point: liberal elites like to virtue signal about wanting diversity and wanting more immigration, but they don't actually want these people to live amongst them in their neighborhoods. This move took place in September. 80% of the houses on the island are empty at that time of year after the summer holiday season. But they didn't want to find a way to accommodate these people.
The new immigration law authorizes $12 million in funding to send more illegal aliens to other sanctuary cities, so we'll have to see where he decides to send the next batch of migrants. Also, it's worth noting that a Telemundo poll last year found that Florida Latinos born in the United States backed the decision by four points, Florida immigrants supported the move by 11 points and independents supported it by 18 points. So, the Left assumes that Hispanics want open borders but actually they do not and DeSantis knows that.
DeSantis also recently sent 1,100 Florida National guard troops to Texas to assist with border security.
How is DeSantis on Crime & Punishment?
He's a law and order guy for sure. They just signed a bill, HB 1297, that will increase penalties for drug dealers who target children, and also subjects child rapists to the death penalty. A related bill, SB 450, allows for the death penalty with at least an 8-4 jury vote, as opposed to a unanimous jury, which was the prior standard, one that caused the Parkland school shooter, who killed 17 people in 2018, to escape getting the ultimate penalty he so richly deserved.
He also committed funds to hire lots of new cops and offered $5,000 bonuses for cops coming from other states. As of April, 1,750 cops from 48 states have claimed the bonuses according to the governor's office.
DeSantis is also pro-2nd amendment and believes in the right to self defense. He recently tweeted in support of Daniel Penny, calling the young Marine who is being charged with second degree manslaughter for the death of Jordan Kneely, a homeless man with 42 prior arrests and an outstanding warrant for attacking a 67 year old woman, a "good Samaritan" while providing a link to his legal defense fund.
During the BLM riots of 2020, DeSantis activated 700 Florida national guard soldiers to assist in keeping the peace around the state and it largely worked, as there wasn't as much property damage here as here as in other states.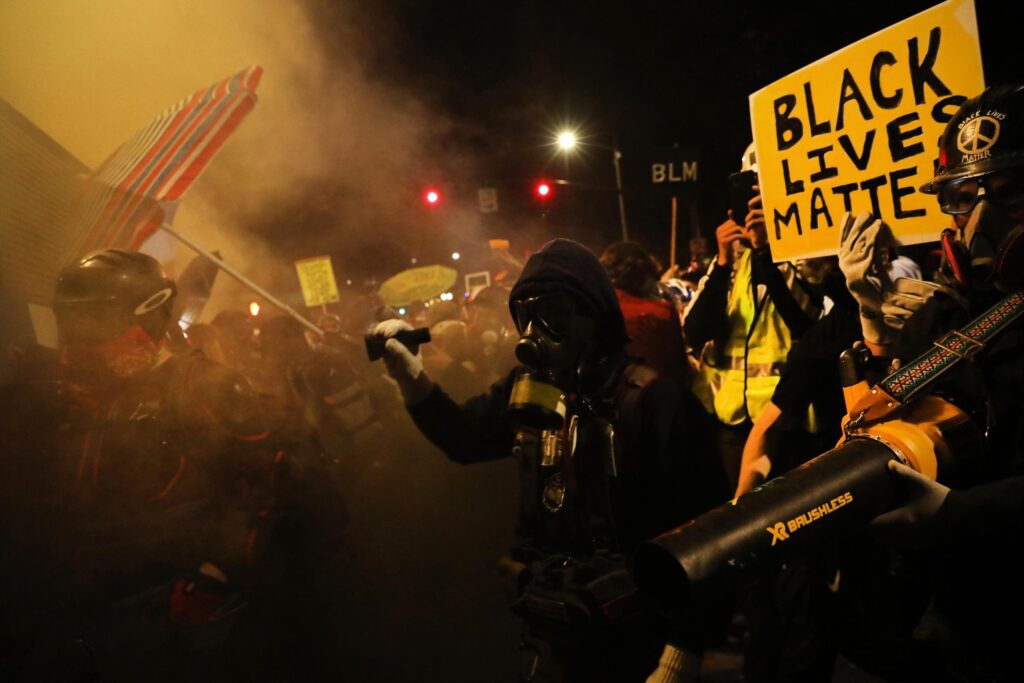 What did DeSantis Say about George Floyd's Death?
He said, "When I saw the video of that cop murdering George Floyd, I was just absolutely appalled by what I saw…. you do not put knee on a neck like that. That is not good training…"I think what made this even more egregious, the guy was handcuffed. It's like, Are you kidding me?"
He also said, ""Florida won't tolerate rioting, looting or violence." To that end, DeSantis signed an anti-rioting law that enhanced the penalties for rioting, but a judge struck it down as overly broad. The state appealed and the case will be decided by the Florida Supreme Court.
Is Ron DeSantis in Favor of School Choice and School Vouchers?
Big time! The governor is perhaps the country's most vocal advocate for school choice. Florida now has universal school choice, regardless of income thanks to another new law, Families are eligible for a credit of up to $8,000 per child, which they can use at the school of their choice. The law also provided more than $1 billion for teacher salary increases.
US News & World Report named Florida the number one state in the country for education for the 7thconsecutive year.
DeSantis is also a proponent of classical education standards. He recently signed legislation,allowing students to quality for Bright Futures scholarships, a state fund for college education, by submitting scores from the Classic Learning Test instead of the SAT alone.
Does Ron DeSantis Oppose Teaching Black History?
Of course not. This is another idiotic media narrative that's unfortunately taken hold. As I've said, DeSantis was a history major at Yale. He also taught history. Florida law has long mandated, dating back to 1994, that students study Black history. Well, he just signed legislation to strengthen this requirement. HB 551 establishes reporting requirements to make sure schools are doing it and if they're not, they'll lose their funding. HB 551 was introduced by the way by a Democrat, Christopher Benjamin, a black legislator from Miami Gardens. And it passed unanimously. In fact, Governor DeSantis also signed legislation mandating they learn about the 1920 Ocoee massacre, in which a white mob killed dozens of black Floridians who exercised their right to vote. He has also said, "We're not going to teach children to hate their country and hate each other."
The controversy regarding black history in Florida was really a red herring. Florida rejected a planned AP African American Studies curriculum that DeSantis argued would indoctrinate children. The curriculum included works from proponents of Critical Race Theory (CRT) and the abolition of prisons and police. There were units on Black Queer studies, the case for reparations, "Black feminist literary thought," BLM, intersectionality, and other pet progressive causes. "In the state of Florida, our education standards required students to study Black history," DeSantis explained. "It's part of our core curriculum [but]… we want education not indoctrination."
Weeks after the initial controversy, the nonprofit College Board released a new curriculum framework devoid of much of its left-wing bias. David Coleman, head of the College Board, told the New York Times that the changes were all made for pedagogical reasons and had nothing to do with DeSantis. He said they came from AP principles and from feedback from teachers at the schools where the original draft curriculum was being tested. The Times also reported that the College Board had a "time-stamped" document proving that the new (less woke) curriculum predated the objection from Florida's Department of Education. But most on the Left just ignored what the AP said and continued to believe their conspiracy theory that the AP caved to DeSantis, when, in fact, even the AP realized that the draft curriculum was just too far left and too woke.
Where Does Ron DeSantis Stand on Abortion?
DeSantis has been pro-life since he was very young as we've talked about. He recently signed a heartbeat law, SB 300, outlawing abortion in the state after six weeks with exceptions for victims of rape, incest and human trafficking, as well as when it is medically necessary to save the life of the mother, or to "avert a serious risk of substantial and irreversible physical impairment of a major bodily function of the pregnant woman other than a psychological condition."
Is DeSantis An Anti-Vaxxer?
No, but he believes that no one should be forced to take a vaccine they don't want and no one should be fired for refusing to take the Covid jab. DeSantis also signed a medical freedom law, SB 252, that makes it illegal to require masks, Covid tests or mRna vaccines in the state among other things.
Where Does Ron DeSantis Stand on Election Fraud and Election Integrity?
While Trump talks about the election in 2020 being "rigged" a lot, DeSantis has actually signed election integrity legislation that makes sense. SB 524 banned ballot harvesting, stopped drop boxes and the mass mailing of ballots, and banned Zuckerbucks. What are Zuckerbucks, you ask? According to Newsweek, "In 2020, Zuckerberg gave $419 million to two nonprofit organizations that distributed grants to roughly 2,500 election departments."
Here's what DeSantis had to say about it.  "Zuckerberg, from Facebook, in 2020, he poured $420 million into these non-profit groups and these non-profits would go into communities that were in important states and they'd go to the election office and say 'here's millions of dollars for you guys, but you gotta bring in our operatives, you've gotta ballot harvest, you've gotta have mass mail balloting' and all of this stuff," DeSantis said, according to WFLA.
The law also created a new Office of Election Crimes and Security that investigates elections crimes, requires voter rolls to be annually reviewed and updated, and increases penalties for election law violations.
In May of this year, DeSantis also signed SB 7050, which increases the security of mail in ballots among other election integrity measures. The law also "modernizes and streamlines campaign finance requirements, " strengthens regulations related to third-party voter registration organizations, and requires government agencies to provide better and more frequent data on voters to the to the Department of State and supervisors of elections in order to increase the accuracy of voter eligibility and voter registration lists.
What's Ron DeSantis' Position on China?
He calls China our "greatest geopolitical threat." Last year, he signed a bill designed to crack down on Chinese corporate espionage and Chinese espionage at Florida universities. And he recently signed two laws to counteract Chinese influence in the state. The laws, "limit Chinese purchases of agriculture land and land near military bases and critical infrastructure, they protect digital data from Chinese spies, and they root out Chinese influence in Florida's education system." If you want to look them up they are SB 264 and SB 846. He also signed laws prohibiting government workers and public school students and teachers from using Tik Tok on government owned and school district owned devices.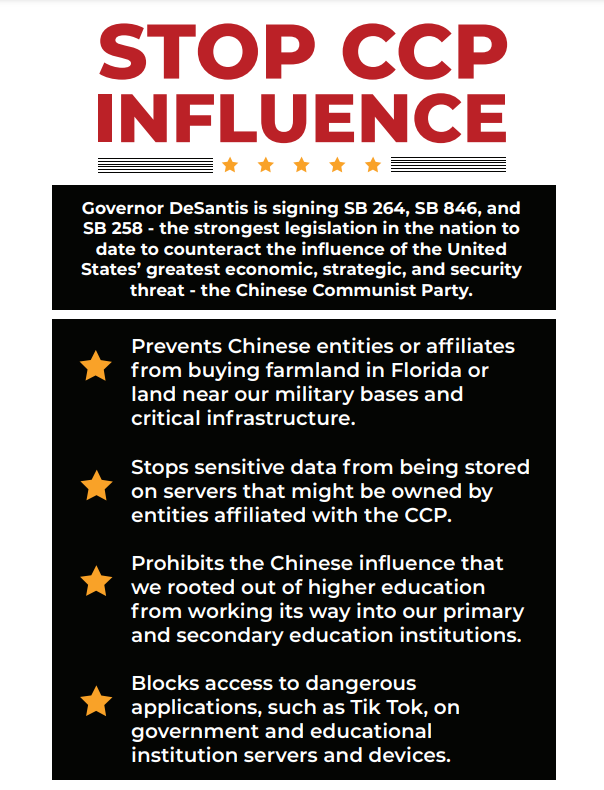 What is Ron DeSantis' Position on the War in Ukraine?
The media went nuts when DeSantis used the term "territorial dispute" in a lengthy statement on the war he provided to Tucker Carlson. But DeSantis said his take on the war was mischaracterized, as he was referring to the conflict area in Eastern Ukraine and not the bigger picture. He has condemned the Russian invasion of Ukraine as well as their 2014 seizure of Crimea. And he called Vladimir Putin a war criminal. But he also said the U.S. shouldn't escalate its involvement by sending any additional weapons to Ukraine or by sending in ground troops, which he said would be a "mistake."
What are some Fun Miscellaneous Facts about Ron DeSantis?
He's a Tampa Bay Bucs fan and he's said to be on "texting terms" with Tom Brady. I've never heard him admit to being a Rays fan. And he used his line item veto to nix $35 million in funding for the Rays, who are extremely woke by the way, to build a new spring training complex. (He said he's against taxpayer funding for stadiums and also critiqued the Rays wokeness.)
He's a golfer and apparently is teaching his kids to play. He played with Trump at his Trump International Golf Club in 2021 and participated in a Valspar pro-am charity event in 2019. He lived near the site of the Players tournament at TPC Sawgrass in Ponte Vedra Beach and did a press conference there in 2019. He said he was a golfer—he learned to play in the military— but not a good one, according to the Ponte Vedra Recorder.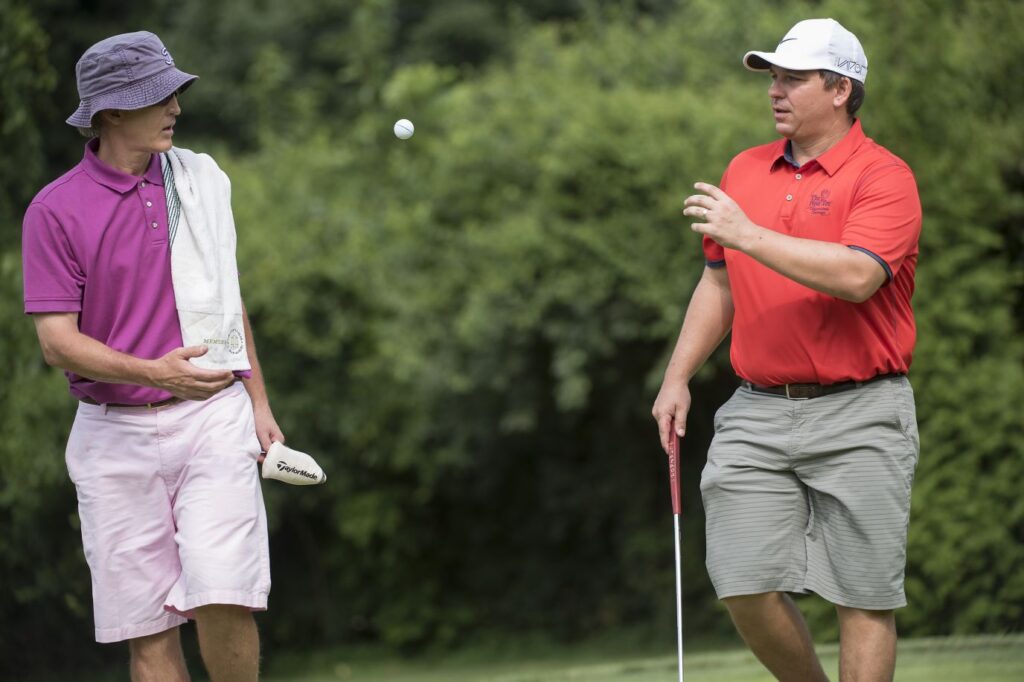 In 2023, he said of the Bud Light Dylan Mulvaney controversy he doesn't drink the stuff anyway. He said he and Casey acquired a taste for Guinness while on a trip to Dublin. On St. Patrick's Day in Dunedin last year, the governor chugged a beer, though it didn't look like a Guinness in 17 seconds as the crowd cheered for him. You don't chug Guinness anyways, so that's fine. I have to say he drained it pretty well. I sent the video to an Irish friend and he said, "not bad for an Italian.